Claude Arpi captures the fan's passion for football in these entertaining e-mails to Ivan Crasto, Rediff.com's Sports Editor.
Read Claude's
first e-mail
His
second
His
third
His
fourth
His
5th: Revolution is a French sport
His
6th: World Cup balls
The 7th: Why is refreeing so poor in the World Cup?
His 8th: The sinking of Old Europe
The 9th: Did you see the most ridiculous goal of the competition?
His 10th: Germany have their revenge, finally
His 11th: Brazil is Brazil and will hopefully remain Brazil
His 12th: Cristiano Ronaldo, a shadow of his old self
His 13th: No samba anymore
His 14th: Die Mannschaft is not an association of stars
His 15th: An un-divine hand and an Oranje show
His 16th: Paul the Octopus was right
Dear Ivan,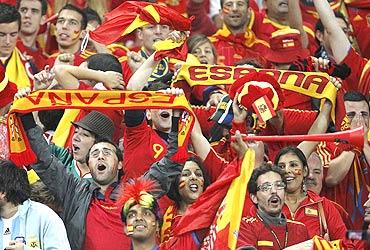 Here we go! Soon, the greatest global show will be over. Life will not be the same, probably a bit boring with no octopus, no blundering referees, no Paraguayan starlet or horrible cacophony (though by the end of the competition we will be missing it!).
Whoever takes the Jules Rimet Trophy home to parade before millions of wild fans, the golden award will go to Europe, like it was four years ago.
During the first weeks, we all spoke of the decline of Old Europe, but for the Final Judgment, Europe has answered, though it is a fresher Europe.
North America and Asia could only reach the pre-quarters while Africa participated till the quarters. South America, with its glorious past and many cups in its tally, went up only to the semis.
The match between Roja and Oranje symbolises a younger Europe in the sports field at least (I don't know why Jose Manuel Barroso is taking credit on behalf of Brussels, he who represents Boring Europe).
What has been quite remarkable is the organisation at the first 'African' World Cup. I doff my hat (even if I don't have one) to South Africa.
Though criticised during the first days about the 'cultural' noise of vuvuzelas, everything has been smooth, the stadia quite full and no law and order problems reported. It is quite an achievement.
When compared to the last Olympic Games in Beijing and the arrogant pride of China's Communist leadership, President Jacob Zuma has been more discreet.
South Africa has been modest about the feat, they did not display any grandiose show of power, but rather a more likable, pleasant, cool, friendly 'African' atmosphere symbolised by Shakira's Waka Waka (This Time for Africa) song.
As I mentioned in several e-mails, the competition is the global event by excellence (at least by its media and Internet coverage, and the number of viewers stuck to their television sets). FIFA has become one of the most representative world organisations. However, while watching the Dalai Lama's 75th birthday celebrations, I wondered why Tibet is not represented in FIFA?
More than two hundred countries are members, but a nation with a landmass which is 25% of China and a population of 6 million is not 'allowed' to participate. Here is a non-exhaustive FIFA list: The Solomon Islands, Comoros, Mauritius, Palestine, the Cayman Islands, Samoa, the Seychelles, Belize, the Turks and Caicos Islands, Tonga, Brunei Darussalam, Tahiti, the British Virgin Islands, Guam, Bhutan, Macau, Aruba, the US Virgin Islands, Timor-Leste, Anguilla, Montserrat, American Samoa, Papua New Guinea, Andorra and Faroe island.
One does not know about the existence of half of these 'countries'. At least everyone is aware where Tibet is located. And it is not even a question of territory: Tahiti is very much a part of France.
In the 1930s, the Tibetans already loved football and fervently practiced it on the Roof of the World. Lhasa United was then the best team. I don't know where they got their jabulanis from; probably India, as China had not become the manufacturing hub it is today.
I hope that you don't mind my criticising the referees. A survey was recently published in The Sun in UK; the results showed that 'Gallic grumblers have admitted they are the world's biggest moaners'.
According to the British tabloid: 'A survey showed 72% of French people think they complain more than any other nation, making them world leaders at griping. Only 17 per cent thought Italy whined more and Americans -- famous for not putting up with poor service -- notched up just four per cent.'
As it was a British survey, they gave themselves the good role: 'Patient Brits romped home with only three per cent branding us bad-tempered.'
Thanks to Raymond Domenech and his men, we could practice grumbling at Les Bleus, though I stand by my views on the referees and FIFA's out-dated mindset on video-referring (the same FIFA conveniently forget that Zidane was expelled during the last final on the recommendation of the official watching the video).
One more gripe, when I watch F1 racing I am appalled by the number of sponsors these guys like Sebastian Vettel or Alonso have (Spaniards are everywhere these days) and worse is the fact that each sponsor manages to sneak his name on the poor driver's outfit.
Even on his cap, shoes, dark glasses and gloves. Stickers are also pasted on the helmets, on the car, and, of course, on cabins in the paddock.
This bad practice has already been introduced in football. When players or coach go through the 'compulsory' interviews before or after the matches (soon it will be during the match), the sponsor's stickers are posted all over. I personally find this reprehensible, but how to stop the 'progress' which unfortunately always seems to go in the same direction.
In Pele's, Di Stefano's or Beckenbauer's time, World Cups were organised, football was played, goals were scored and all without this horrible display of sponsorship. Personally, I boycott all these ostentatious brands. It is not always easy though in India it is not so difficult since one can always find copies!
Have a good final (without dear Paul's prognostic)
Let us Waka Waka together (with vuvuzelas)
Claude
Image: Spanish fans celebrate their team's win over Germany. Photograph: Siphiwe Sibeko/Reuters