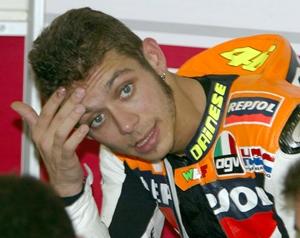 Injured MotoGP world champion Valentino Rossi is hoping to return to racing this month, far earlier than expected, after getting back on two wheels on Wednesday for the first time since he broke his leg.
His Yamaha team said in a statement that the 31-year-old completed 26 laps of Italy's Misano circuit on a Yamaha superbike but reported pain in his leg and shoulder.
Despite that, they said the Italian would decide in the next week whether to return for the German Grand Prix at Sachsenring on July 18.
Rossi, who has been walking on crutches since the end of last month, had said he hoped to return to racing at the Czech Grand Prix on August 15. He broke his leg on June 5 in his home Grand Prix at Mugello.
"We made this test in order to understand how we must work from here and to see more or less how I can ride the bike," said Rossi in a statement.
"The test was positive, because I can at least ride, but there is a lot more to a MotoGP race than to a test like this one.
"I had some pain in the ankle, the knee and the shoulder, but above all I lacked strength in the shoulder and a bit of movement in the ankle," he added.
"I would really like to come back at Sachsenring, but it is still too early to say. We still have 12 days and we must wait and see how much we can improve my condition in the next few days."
Rossi's Spanish team mate Jorge Lorenzo leads the championship by 52 points after winning the last three races. Rossi has slipped to seventh overall.