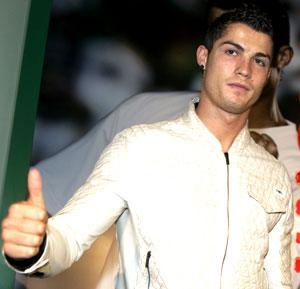 Cristiano Ronaldo's family revealed that the soccer ace has named his son after himself.
The Portuguese striker, 25, is on holiday in the US with Russian model girlfriend Irina Shayk after leaving his baby with his mother and sister.
They are staying in a rented 2.5-million pound villa on the Algarve, near Ronaldo's CR7 fashion boutique in upmarket Vilamoura.
"The baby is doing very well. We are looking after him while Cristiano is away. He's called Cristiano just like his dad," the Sun quoted Ronaldo's sister Katia as saying. 
"Cristiano chose the name but we like it. He looks like his father and like me. He has the same eyes," she added.
According to reports in Portugal, Ronaldo handpicked a surrogate mother in the US in order to create his own 'Mini-me'.
He picked the woman after twice visiting fertility specialists in Florida last summer.