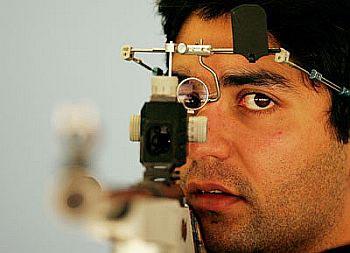 Ace Indian marksman Abhinav Bindra equalled his Beijing Olympics qualification score at the International Shooting Competition in Munich on Sunday.
He shot an impressive series of 99, 99, 100, 99, 100 and 99 to equal his Beijing Games qualification score of 596 out of 600, which fetched him the Olympic gold last year.
Bindra had also scored 596 at the RIAC Cup at Luxembourg in December last year.
He is participating in the international competitions in Europe as part of his training plans.
The competition at Munich is important for all the shooters who are eyeing the Olympic qualification quotas at the World Shooting Championship to be held at the same venue in July.