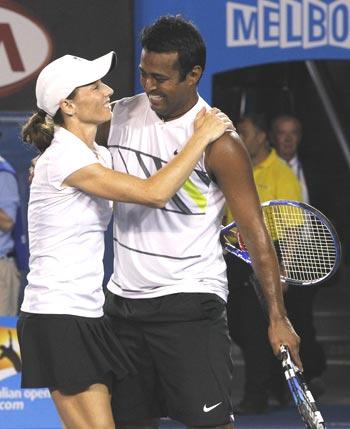 His 11th Grand Slam title has only whetted Leander Paes' appetite for success and the Indian ace on Sunday said he remains a "student of tennis" who draws inspiration from Roger Federer and strives for perfection.
"21st Grand Slam final, 11th win. The beauty of continually putting the hard work day in and day out in the gym or on the track when you're not feeling great, these are the things you play for," Paes said after lifting the Australian Open mixed doubles title at Melbourne Park with Zimbabwean Cara Black.
Paes and Black beat Russian Ekaterina Makarova and Czech Jaroslav Levinsky 7-5, 6-3 to lift their second title together. With this, Paes equalled one-time partner Mahesh Bhupathi's record for most Grand Slam titles by an Indian.
"I'm a student of life; I'm a student of tennis. It keeps teaching me about getting better. If Roger Federer can keep improving, I think all of us can still improve, as well," Paes said.
With this triumph, Paes also kept a promise he had made to Black.
Paes and Black had made back-to-back Grand Slam finals -- the US Open and the Wimbledon -- last season but lost both times and Black said the Indian had promised to win the Australian Open.
"We talked about it last year. He promised. He made a promise to me we were going to get this one. He's good at getting keeping his promises," Black said. Reflecting on the win, Paes said he and Black were better in court coverage as compared to their rivals.
"I think that just our expertise and the way we play doubles, the way we cover the right shots at the right time, and the fact we keep bringing it to our opponents.
"Even if they break us once, even if they break us twice, even if they break us three times, they're going to have to play exceptional tennis through the whole match to win. I think that's what won it for us in the semis really, which was a real tough match.
"That's what won it for us today, is that our individual play, our instincts are very well matched well together," he added.
Paes said he and Black also capitalised on errors made by Makarova and Levinsky.
"We managed to work our strategy out by keeping it simple. We could see that the girl, Makarova, was going cross-court with both her returns. Her forehand was going cross-court and her backhand was going cross-court. That's eventually when we started covering," he said.
Asked what keeps him motivated at 36, Paes said family support has kept him going.
"My partner, my daughter. A bit cliched. I think the lifestyle of a tennis player is really blessed. I think that when you look at the whole year of travel, you get to visit some amazing places, you get to make some great friendships. That's what I've tried to do with the partners that I play with," he said.
Paes lavished praise on Black and said he derives inspiration from her.
"She's got intelligence. She's got hard work. You know, I know for sure every time I step on the court with her she's going to put everything out there.
"To me that's what motivates me. To me, that high standard of excellence, that high standard of putting your best out there whether you win or lose, I think that's what's got us through many matches also in the past, matches we maybe should have lost," he said.
Leander also thanked the Australian fans for coming to support him at Melbourne Park.
"I think that's the beauty about tennis and sport, is that you transcend any kind sort of communal troubles there are, so to say," he said.
"I think it's a responsibility for some of us who travel around the world representing our countries at the same time to support those relations.
"I love Australia. I've had an Australian coach for 10 years. I live in India. It's quite intriguing that we share the same day for republic day. That's the reason I set it out there for India and Australia," he added.