Ferrari boss Stefano Domenicali says he is confident the team's former hero Michael Schumacher will be beaten by their new idol Fernando Alonso.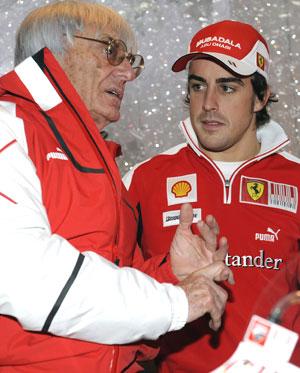 Domenicali admitted it would be "difficult" to see Schumacher in another team after a 14-year association.
The Sun quoted Domenicali, as saying: "Everyone will look at Michael as very strong, of course. As Michael decided to address this challenge he is convinced he will have a car which can give him the possibility to show once again the driver he is."
"Last year when we tackled the issue of substituting Felipe Massa we thought about him because we are convinced Michael is an extraordinary, very strong driver. From this point of view, Fernando has all that is necessary to defeat him," he added.
"However, a driver can be the best in the world, but without the best tools even the best in the world will have problems winning. It will be up to us to give him the right car," he said.
Domenicali added: "We have seen some fans not appreciate Michael's choice, and it will be difficult to see Michael with his helmet on elsewhere. Some wounds always remain but we should not forget history - what Michael did with Ferrari, just as we should not forget what Ferrari did for Michael.
"Now we turn the page and it is a further stimulus for us. We have to show, also to Michael, that this is the strongest team. It's a constructive stimulus, a greater will to show that we can win."