Roger Federer will not warm up for the Australian Open at this week's Kooyong Classic in Melbourne, prompting organisers to target Briton Andy Murray for the vacant eighth spot in the invitational field.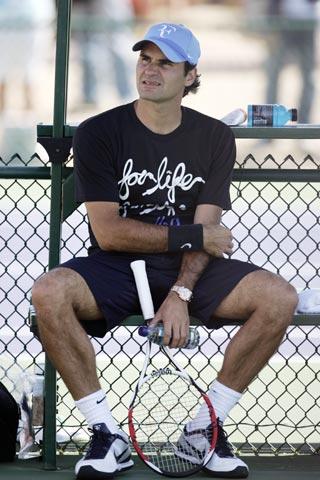 World No 1 Federer, who thrashed compatriot Stanislas Wawrinka to win the title last year, had decided to rest before next week's grand slam at Melbourne Park, tournament director Colin Stubs said Monday.
"(Federer's representative) Tony Godsick from IMG said Roger had decided to pass on the spot this year," Stubs said. "It's possible he'll play an exhibition match."
Organisers had pledged to hold a place for the 15-times grand slam champion until the day before the January 13-16 tournament.
Aside from missing the 2008 event with glandular fever, Federer has been a fixture at the leafy Kooyong Lawn Tennis Club over the last six years, using it as a springboard to three Australian Open titles.
Federer's management did not cite any reason for his decision to rest, but organisers had only rated him a "slightly better than 50-50 chance" to play, Stubs said.
Despite recapturing the World No 1 spot from Spanish rival Rafael Nadal last year, Federer's 2010 campaign has got off to a spluttering start.
The 28-year-old was beaten emphatically by Russian World No 6 Nikolay Davydenko in the semi-finals of the Qatar Open Friday, a week after his first loss to Swede Robin Soderling in 13 encounters at an exhibition tournament in Abu Dhabi.
Stubs said organisers were chasing British World No 5 Andy Murray to take the last place in the field, which boasts US Open champion Juan Martin del Potro of Spain and Serbian world number three Novak Djokovic.
France's Jo-Wilfried Tsonga and Spaniard Fernando Verdasco will also line up at Kooyong where players are guaranteed three matches on the same surface used at Melbourne Park.