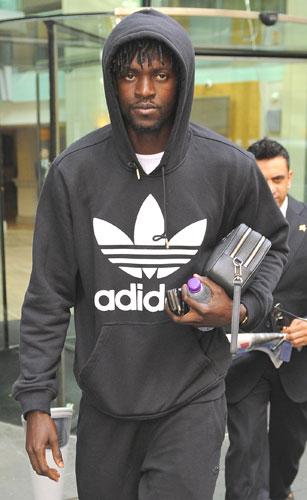 Manchester City striker and skipper of Togo Emmanuel Adebayor recounted the details of the horrific attack on the team bus and how he prayed to god to save his life.
Angolan rebels attacked a bus carrying the Togo national football team as it travelled for the Africa Cup of Nations football tournament on Friday. The driver was killed and two players were among nine injured in the ambushed by rebels on their way from their Congo training ground to their African Nations Cup base in host country Angola.
"They shot at us for 30 minutes - all we could do was pray to God we'd live. We've seen one of our team-mates have a bullet in his body, who is crying, who is losing consciousness. We've seen death. It's one of the worst things I have ever been through. It was horrific," Adebayor said.
"I never thought I'd ever live through an experience like that. All we had to do was to pray to God to save you. I think that is what he has done quite well. I don't know if I am the target or not, all I know is that my team - my country - was the target. Why, I don't know," The Sun quoted the ace striker, as saying.
Goalkeeper Kodjovi Obilale, 25, and defender Serge Akakpo, 22, were wounded along with an assistant manager, a doctor and a journalist.
The attack fuelled security fears over the 2010 World Cup in South Africa. The coach was in a convoy under heavy police escort through the troubled territory of Cabinda.
Adebayor said he was still in shock and living in a dream. "I think without the security I wouldn't be here to talking to you, you'd be talking to my dead body. The thing we don't understand is why. It's not just one or two guys shooting on the bus. We were in the middle of that for 30 minutes. I'm not talking five minutes."
"Our bus had been stopped and there was shooting on the bus for 30 minutes. If you can imagine the silence on the bus, it was one of the worst experiences I've had in my life and I hope it is the last," he said.
Adebayor said that after the attack the players were ordered off the bus, as the driver was dead. "He had passed away. We didn't have anyone to drive the bus."
The rebels fled after a gun battle with cops. Players were in tears as they got off the coach