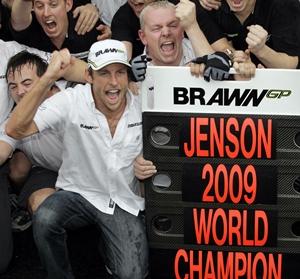 Formula One champion Jenson Button said he was more motivated than ever after his first full day inside the lions' den as Lewis Hamilton's new McLaren team mate.
Braving the snow to turn up -- on Hamilton's 25th birthday -- for his first 'proper' visit to the Woking factory, Button relished the challenge ahead after a move decried by some as madness after the greatest year of his life.
Retired great Jackie Stewart had warned the Briton would be stepping into the lions' den at a team dominated by his compatriot, while Button himself recognised he had left his comfort zone behind.
Britain's outspoken former Ferrari driver Eddie Irvine said this week Button was going to get "murdered" on the track by Hamilton, the sport's youngest champion.
"The only reason I can think of is that he didn't want to stay at Brawn with Rosberg, who's not as highly rated as Lewis but might be just as quick," the Northern Irishman told ESPN. "Jenson may have thought that it's better to get beaten by Lewis than get beaten by Nico."
Speaking to British reporters on Thursday, a relaxed Button shrugged off the barbs and said he had nothing to prove.
"I'm not one for answering back, there's no point," he said. "For me, the important thing is that I'm confident in my ability and I think that everyone is entitled to their opinion.
"All I can say is that I'm excited about working with Lewis, because that is exactly what we are going to have to do to be competitive this year.
"Really it makes my life a lot easier because I'm in a much more relaxed position than people telling me that I was going to destroy my team mate," added the Englishman whose place at Brawn (now Mercedes) has been taken by returning seven times champion Michael Schumacher.
"I can just focus on doing the best job I can and getting the best out of myself and also getting the best out of the team. In a way, I don't think it's a negative thing."
NUMBER ONE
Button takes his number one position into a changed Formula One landscape, with Toyota and BMW gone and a fistful of new private teams on the grid along with the return of the most successful driver of all time in Schumacher.
He was delighted to see the German back.
"I think it is amazing for the sport," he said. "I think having four world champions racing, and one of them who has achieved more than anyone else in the sport, is great.
"It's an unusual decision by Michael but he's obviously got his reasons... you've got to say fair play to (team boss) Ross (Brawn) for getting him on board.
"It's great having him back on the grid and I look forward to the challenge this year with him."
Hamilton, who has been part of the McLaren 'family' for more than a decade, will be a more immediate concern but Button stopped short of saying his team mate had the upper hand.
"I'm not going to say he (Hamilton) starts with a big advantage," said the 29-year-old.
"I will say that it is all new to me with this team. I've got to get to know a lot of people within the team and to know how they work and it's going to take a little bit of time."
Button said his first impressions were of a team itching to get back to the top this year, just like him.
"Maybe if I stayed where I was (at Brawn) it would have been harder to get a second title. Maybe I wouldn't have been so motivated. But moving to where I am now I think it has really motivated me," he said.
"It is something that really excites me and something I am going to work really hard on achieving with the team this year.
"I am more motivated than ever to have a good season this year. I feel a lot more relaxed, a lot more confident in my ability and also the way that I work with the team."