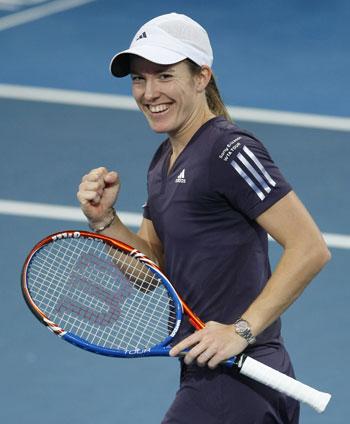 Belgium's Justine Henin made a triumphant return to professional tennis with a 7-5, 7-5 win over Russia's Nadia Petrova in the Brisbane International first round on Monday.
Playing her first official match in 20 months, the 27-year-old Henin showed she had lost none of her fighting qualities as she ground out a hard-fought victory.
Henin quit tennis in May 2008 when she was ranked world number one but announced last year she was making a comeback.
She had been training for five months in preparation for the Australian Open, starting January 18, and sent an ominous warning that she is deadly serious about getting back to the top.
"I have been waiting for this moment for so long. I am so happy about what I did on the court," she told reporters.
"It's only the beginning and I feel better today than I did when I retired, both emotionally and mentally," she added.
Petrova was impressed by her opponent.
"Henin is playing better tennis than before she retired. It is good news that she is back," said the Russian, who was seeded second but drew Henin after the seven-times grand slam winner was granted a wild card.
Defending men's champion Radek Stepanek of the Czech Republic beat Australian John Millman 6-4, 6-0, while Frenchman Richard Gasquet buried some of his own demons by defeating Finland's Jarkko Nieminen 6-3, 4-6, 6-4.
Gasquet was cleared last year over a positive cocaine test he said was the result of kissing a woman in a nightclub.
"It is just good for me to play with nothing in the head," he said.
FIRST WIN
Serbia's Ana Ivanovic registered her first win in almost five months by beating Australia's Jelena Dokic 7-5, 1-6, 6-3 on the Pat Rafter centre court.
Ivanovic, who has slipped to 21st in the world rankings after failing to win a tournament in 2009, overcame a lapse of concentration in the second set to see off Dokic, who contributed to her own downfall with 11 double-faults.
Dokic has become the new darling of Australian tennis after riding a wave of public support and national sympathy to reach the quarter-finals of last year's Australian Open.
The 26-year-old was unhappy with her loss to Ivanovic but still buoyed by the fact she was at least able to challenge.
"To come out and play three sets and still not to be satisfied with my game is a good sign," Dokic said.
"A match like this will make me tougher and hopefully I can get a better draw in the next couple of weeks," she added.