Sania Mirza will lead the Indian campaign in the Fed Cup Asia/Oceania Zone Group II competition as selectors on Sunday named a six-member squad, which also has fast rising talent Poojashree Venkatesh.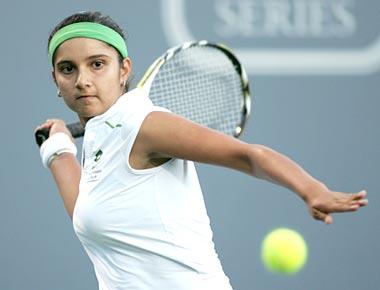 The All India Tennis Association selection committee, led by Anil Dhupar, met in New Delhi on Saturday and dropped Ankita Bhambri while retaining veteran Rushmi Chakravarthy and Sanaa Bhambri.
The selectors rewarded Poojashree for her brilliant performance last year, in which she won four ITF Futures titles out of five finals.
Young Ankita Raina and Shivika Burman are the other members of the squad.
The competition will be held in Kuala Lumpur, Malaysia next month.
India were relegated to the Asia/Oceania Zone Group II last year after being blanked 0-3 by Taiwan in the play-off tie of the women's team event.
Sania had pulled put of the tournament in 2009 citing an abdominal injury and also did not play in 2008.
Rohit Rajpal was appointed as non­playing captain while Enrico Piperno will be the coach of the team.
Squad:
Sania Mirza, Poojashree Venkatesh, Sanaa Bhambri, Rushmi Chakravarthy, Ankita Raina and Shivika Burman.