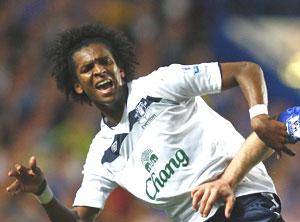 Everton have suspended on-loan Brazilian forward Jo for returning to his homeland without permission, manager David Moyes said on Friday.
Jo, who is on a season-long loan from Manchester City, was already sidelined with a knee injury and has not played since December 12.
"Jo went back to Brazil without permission from the football club. He is now back but is suspended at the present time," Moyes told Sky Sports News.
"I am disappointed. We like Jo, he has been a really good lad and we have enjoyed having him. But there has to be discipline at all football clubs. He left over a busy period when we were short of players. I found it very difficult so he is suspended from the club."
Jo joined City from CSKA Moscow for 18 million pounds in July 2007. The tricky but lightweight forward has struggled this season, failing to score in the Premier League and mustering just two goals in cup competitions.