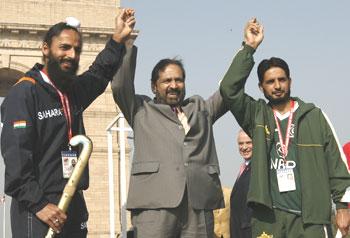 Under tremendous pressure to win the tournament opener against India, Pakistan captain Zeeshan Ashraf on Friday said fans back home will even excuse a flop show in the hockey World Cup if his team beats the traditional rivals in Sunday's much-hyped encounter.
"The first match against India is very crucial. If we win that match it will not only be a confidence boost for the boys but also give us psychological advantage going into the tournament," Zeeshan said.
"In Pakistan, everybody wants us to win against India, come what may. Back home it doesn't matter whether we win the World Cup or not, but winning against India is what everybody is looking for," he conceded.
"It would be one of the most important matches of my life," said the experienced full back, who will celebrate his 34th birthday on the match day.
Admitting that India will enjoy the home advantage going into the much-awaited encounter, Zeeshan said pressure would be similar on both the sides.
"The match is crucial for both the sides, so pressure will on both sides.
"Even though India are playing at their home we expect some support. If we play well I hope we will get support," he said.
Zeeshan said once the team clears the first hurdle, the goal is to reach the semi-finals of the 12-team event.
"We have improved a lot from the last two to three tournaments. But the first three pool matches will determine our fate in the World Cup," Zeeshan said.
He was also of the view that both India and Pakistan have the firepower to come up with surprises in the tournament.
"India and Pakistan are such teams which can upstage any top team of the world," he said.
In Sohail Abbas, his team has one of the most fearsome drag-flickers in the world but the Pakistan skipper refused to add pressure on the veteran penalty corner specialist.
"Undoubtedly, Sohail (Abbas) is one of the best drag-flicker the world has ever seen but we are trying not to put too much pressure on him. Keeping that in mind we have prepared Muhammad Imran," Zeeshan said.
He also threw his weight behind Pakistan's cricketers and regretted their omission from the third Indian Premier League.
"The treatment meted out to our cricketers in IPL was uncalled for. It should not have happened. The more we play against each other, the better will be the relations between the two countries," Zeeshan said.