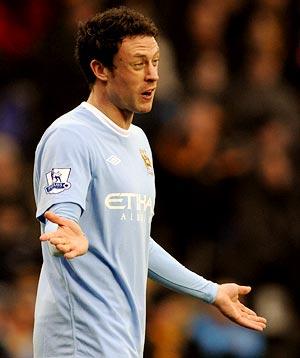 Manchester City defender Wayne Bridge has made himself unavailable for selection by England and will not go to the World Cup finals, he said in a statement on Thursday.
His decision comes in the wake of media allegations that John Terry, his former Chelsea team mate who is also in the England squad, had an extra-marital affair with Bridge's former girlfriend.
Bridge was a club mate of Terry's at Chelsea before joining Manchester City last year.
Terry has been stripped of the England captaincy as a result of the publicity surrounding the matter, and on Thursday, Bridge, who has played for England 36 times, said he no longer wants to be considered for the national squad.
In the statement, issued to Sky Sports News, Bridge said: "I have thought long and hard about my position in the England football team in the light of the reporting of the events over the last few weeks.
"It has always been an honour to play for England. However, after careful thought I believe my position in the squad is now untenable and potentially divisive.
"Sadly therefore, I feel, for the sake of the team, and in order to avoid what will be inevitable distractions, I have decided not to put myself forward for selection.
"I have today informed the management of this decision. I wish the team all the very best in South Africa."
His decision leaves England coach Fabio Capello with a problem at left-back as Ashley Cole, another former Chelsea team mate, is out until May at the earliest with a broken ankle and may not be fit for the World Cup finals in South Africa which start on June 11.
Bridge and Terry are due to meet on the pitch for the first time since details of the alleged affair were made public when Manchester City visit Chelsea on Saturday.