Former Brazil World Cup-winning striker Ronaldo signed a contract extension with Corinthians until the end of 2011 on Monday and announced he would then retire.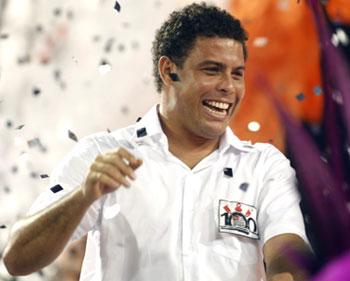 He said he hoped to win a major trophy with Corinthians in the next two years, with a first South American Libertadores Cup a priority for the club.
"I have renewed for another two years and they will be the last of my career. I have already decided that," the 33-year-old said.
"I want to give of my best, have fun and hope to finish with important successes like the Libertadores Cup," he told reporters after a Corinthians practice, according to the club website (www.corinthians.com.ar).
Ronaldo, all-time top scorer in World Cups with 15 goals and three times BIFA Player of the Year, helped Corinthians win the Paulista championship and Copa Brasil in his first season with the Sao Paulo-based club last year.
Having recovered from a right thigh muscle injury at the end of January, Ronaldo will be fit for Corinthians' opening match in the Libertadores Cup against Racing of Uruguay on Wednesday.
The former PSV Eindhoven, Barcelona, Inter Milan, Real Madrid and AC Milan striker signed for Corinthians at the end of January 2008 while he was still recovering from a third knee operation.
After having part of his treatment at Flamengo, the team he supports, Ronaldo turned his back on the Rio de Janeiro club and joined Corinthians, upsetting Flamengo fans.
Ronaldo, his head shaven again like in the best days of his career, scored 24 goals in 40 matches for Corinthians last year and said he still hoped to play for Brazil at a fifth World Cup in South Africa this year.
"It's something that can still happen for me," he said.