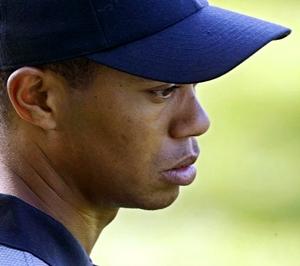 Superstar golfer Tiger Woods, who stunned the sports world and took an indefinite break from the game in December after admitting he cheated on his wife, said on Friday he intended to return to professional golf one day, but he does not yet know when.
"I do plan to return to golf one day, I just don't know when that day will be. I don't rule out that it will be this year," Woods said, in his first public appearance since revelations of marital infidelity caused his spectacular fall from grace.
Woods, the world number 1 golfer and the most marketable figure in sports, bowed out of the game in a bid to repair his marriage. Speculation has heightened in recent weeks about the timetable for his likely return to competition.
Woods, a 14-time major champion whose image was squeaky clean until the scandal over his private life erupted last year, apologized for what he called his selfish and irresponsible behaviour.
He said that he had undergone 45 days of therapy and had "a long way to go" in repairing his personal life. He said he would be returning to the treatment centre -- which he did not identify -- starting on Saturday.
The 34-year-old American spoke to a small group of reporters at the headquarters of the US PGA Tour in Ponte Vedra Beach, Florida. The appearance was carried live on U.S. television and widely watched.
Woods, who is believed to be the wealthiest sports personality on the planet, was estimated to earn about $100 million a year in endorsement deals before his adultery scandal led AT&T and Accenture to drop him as a spokesman.
Remaining sponsors offered words of support on Friday.
Procter & Gamble's Gillette brand said its relationship with Woods remained unchanged, adding "his words stand on their own. We wish him and his family the best."
Electronic Arts Inc also said the relationship with Woods was unchanged. "We look forward to seeing Tiger back on the golf course when the time is right for him and his family," said Peter Moore, president of Electronic Arts Sports in a statement.
Nike Inc said in a statement it "fully supports him (Woods) and his family," adding, "We look forward to him returning to golf."
'I CHEATED'
There had been speculation Woods might be set on Friday to announce a date for returning to golf.
Woods said he was "deeply sorry for my irresponsible and selfish behaviour."
"I was unfaithful, I had affairs, I cheated. What I did was not acceptable and I am the only person to blame," Woods said. "I brought this shame on myself."
He defended his wife and denied media speculation that there had been physical violence between the couple. The speculation arose after a bizarre minor car accident in November outside woods' Florida home in the middle of the night.
"Elin never hit me that night, or any other night. There has never been an episode of domestic violence (in our family)..." Woods said.
He gave no account of what actually happened to cause the accident when he crashed his car outside his home. It was that accident that snowballed into tawdry revelations about his personal life. Numerous women claimed to have had affairs with Woods in the days that followed.
Woods did not give any details of his treatment, but he has reportedly been treated for sex addiction in Mississippi.
The golfer did not take questions after his statement to a small and tightly controlled gathering of reporters.
NOT OUT OF CRISIS
Robert Boland, professor of sports management at New York University, said Woods was not yet out of the crisis.
"It established boundaries for how he will return and may help him re-establish his brand effectively ... I think this crisis can't really blow over until until he returns and plays golf," Boland said.
"Sponsors are asking themselves, 'if he's not playing golf, why are in this relationship.'"
In his comments, Woods said he had drifted away in recent years from the Buddhist beliefs taught to him by his mother, who was on hand at the PGA headquarters on Friday.
He suggested that a renewal of his faith would help play a part in getting his life back on track.
"Buddhism teaches that a craving for things outside ourselves causes an unhappy and pointless search for security. It teaches me to stop following every impulse and to learn restraint," he said.
Woods had been widely advised by his peers and public relations experts to make a public apology before returning to competition, many of them suggesting he should go even further by appearing in a television interview.
Golf fans had speculated that Woods might make his return in the coming months. Any of three tournaments had appeared likely -- the March 11-14 WGC-CA Championship at Doral, the March 25-28 Arnold Palmer Invitational in Orlando or the April 8-11 US Masters, the opening major of the year.
Sponsors and organizers have been counting the days before his return. The absence of Woods from events where he usually plays has generally driven down television ratings by 50 percent.