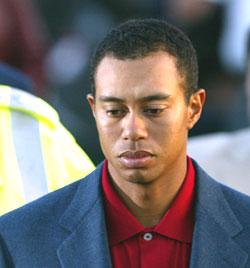 Tiger Woods, the superstar golfer who took an indefinite break from the game in December after admitting marital infidelity, will make a public statement on Friday to discuss his playing future.
The World No 1 has been in hiding since the tawdry revelations about his personal life erupted after a minor car accident outside his Florida home in November. Woods plans to address a small gathering of reporters in Ponte Vedra Beach, Florida, on Friday, his manager said.
"Tiger plans to discuss his past and his future and he plans to apologize for his behaviour," Mark Steinberg said in an e-mail to Reuters.
"While Tiger feels that what happened is fundamentally a matter between he and his wife, he also recognizes that he has hurt and let down a lot of other people who were close to him. He also let down his fans. He wants to begin the process of making amends and that's what he's going to discuss."
With his squeaky-clean image torn asunder by a series of allegations over his private life, he reportedly got treatment for sex addiction in Mississippi.
Woods, 34, has since returned to his Orlando home where he and his Swedish wife, Elin, are believed to be living apart.
Woods has given no timetable for his likely return to competition.
Many pundits have predicted he will be back for the March 11-14 WGC-CA Championship in Miami, Florida while others are banking on him delaying his comeback until the U.S. Masters in April.