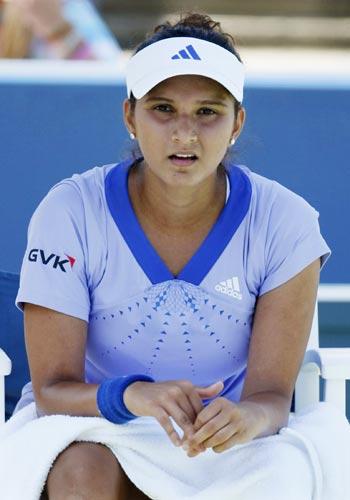 Indian tennis ace Sania Mirza received a setback in her efforts to regain her form after revealing on Monday that her career-threatening wrist injury had returned.
Sania, who lost to Anabel Medina Garrigues of Spain in the first round of the Dubai Open on Monday, said that her main concern now would be her injury.
"You go through good patches and bad patches and that is something we have to deal with as athletes. It's like your good day at work and your bad day at work. But right now that's not my major concern. My main concern is my wrist - which I have to sort out," she said after the match.
"It hurts when I stretch to a forehand. It hurts when I try to hit a hard cross court backhand," the 23-year-old from Hyderabad said.
Sania is now doubtful for the $220,000 Malaysian Open in Kuala Lumpur starting next week.
'It's tough when you're playing with that (injury) and then mentally you're struggling, thinking 'oh great, the wrist is back. Oh, how am I going to deal with it'?
"During the match, thoughts were running through my head like, 'okay, what am I going to do? Do I play Malaysia? Do I go back home? Do I see my doctor?' All these things were going on in my head at that point in time," said Sania about the injury which seemed to have improved after an operation nearly two years ago.