Force India's 2010 challenger VJM03 made its official testing debut with more than 300km of trouble-free run and no reliability issues on day one of their four-day testing at the Circuit de Jerez in Jerez, Spain.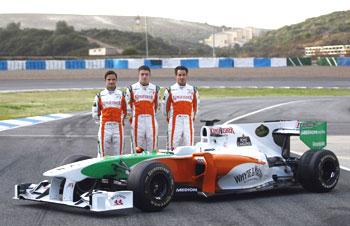 Antonio Liuzzi clocked the seventh fastest time as the VJM03 made a smooth debut.
The wet condition notwithstanding, Liuzzi completed 71 laps to cover 314 km with focus on system familiarisation in the morning and then balance runs in the afternoon.
Mercedes' Nico Rosberg (1m 20.927s) topped of chart while Liuzzi's fastest was 1:24.968 among 10 drivers.
"It was definitely a good beginning to our testing programme. It was mainly about getting comfortable in the car and running through the systems," Liuzzi said after Wednesday's testing.
"We did more than 70 laps and the car was reliable with no big issues, which is a very good starting point.
Unfortunately we did just three laps in the dry in the morning before it started to rain. We are however pretty happy with how the day ended and now are looking forward to tomorrow where hopefully the weather will be better," said the Italian.
Chief race engineer Dominic Harlow felt the team made the most of the mostly wet conditions.
"Tomorrow we will continue this process and start to find out more about the balance and the 2010 tyres. It's really good to be back at the track and to see the team working together again in earnest for the first time in 2010," he said.
Liuzzi will continue in the VJM03 on Thursday before Adrian Sutil takes over on Friday and Saturday.