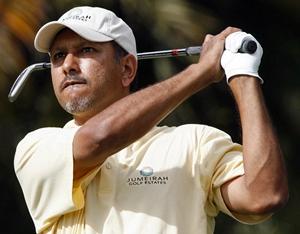 An inspired Jeev Milkha Singh, who recently welcomed the arrival of his newborn son, returns to home soil for this week's inaugural Avantha Masters, promising to put Indian golf firmly on the world map.
The two-time Asian Tour number one celebrated the birth of his first child a fortnight ago and believes his son will give him the added motivation when he plays in front of a partisan crowd that's expected to gather at the DLF Golf and Country Club from February 11 to 14.
"I'm going to try to win this week but I'm actually more excited about the baby. I spent more time in the hospital than at the golf course. The relief and the joy that I felt when one of the doctors came outside and informed us about the successful surgery, cannot be matched, or described in words.
"And when I first saw the baby, I had tears in my eyes," said Jeev, an Asian Tour honorary member.
As one of Asia's most decorated players, having won six times on the Asian Tour with additional victories recorded in Japan and Europe, he promises to show home fans how much golf in India has progressed through the years at the tri-sanctioned event between the Asian Tour, European Tour and Professional Golf Tour of India (PGTI).
"I'm working together with my coach this week and I'm feeling good about my form. It's always nice to win at home and I'll go out there and do my best," said Jeev, who is also widely known as the face of modern golf in India.
Singh will be the highest-ranked Indian player coming into this week's event and is expected to be one of the main draw cards.
"We've got all of our Indian boys playing here this week and we couldn't ask for a better field. We usually play well at home and I hope we'll do well again," added the 38-year-old Indian who was conferred the prestigious Padma Shri for his contribution to sports, almost 50 years after his father, Milka Singh, an Olympic sprinter received the same award in 1959.
Other Indians expected to be among the mix include eight-time Asian Tour winner, Jyoti Randhawa and rising star Gaganjeet Bhullar, who won his second Asian Tour title in Bangkok last week.
India's C.Muniyappa will also return to the venue of his historic triumph last year and is gearing up to create another upset.
It was only four months ago that Muniyappa broke through in the most deserving way by winning his maiden Asian Tour title at the DLF Golf and Country Club and he is hoping to continue his fairytale run again.
"Because of my win here last year, I gained quite a bit of publicity. I've more fans supporting me now and I hope not to let them down," said Muniyappa.
While the euphoria of that win is over, the 33-year-old, who is a former caddie, is hoping to keep his focus for the challenges that will await him this week.
"Expectations of me will be higher this time but that'll only make me work harder. There's a lot of pressure playing in front of your fans at home and mentally I've to be strong. If I can do that, I should be able to do well this week," said Muniyappa.
Muniyappa's rise to fame is well-documented. He grew up working as a caddie earning only a rupee an hour, but, as fate would have it, defied all odds to win his maiden Asian Tour title, which came along with a winner's purse of close to US $200,000.
Since the career breakthrough, life for Muniyappa is still the same, except that he now calls a rented accommodation home and is waiting for the real estate prices to come down before making a decision on purchasing a flat.
"I get more recognition now but I guess that's also because everyone supports me as I come from a humble background. I don't want to be treated like a big star. No matter whether I win or not, I still want to remain humble," said Muniyappa.
Meanwhile Australia's Adam Blyth, who enjoyed three top-10s last season looks to a winning start as he tees off for his first event of the 2010 Asian Tour season.
"It's my first week of the year and it's exciting to see everyone back on the Asian Tour. I took a little bit of time off from golf during the break where I did nothing," said Blyth.
The Australian came close to a breakthrough victory in Malaysia and Indonesia last season but had to settle for a 10th and second place finish respectively.
Having enjoyed a refreshing break from golf, Blyth is eager to get his campaign off to a winning start.
"I feel very refreshed now and I just hope to play better and improve on my rankings this season," added the 28-year-old Australian.