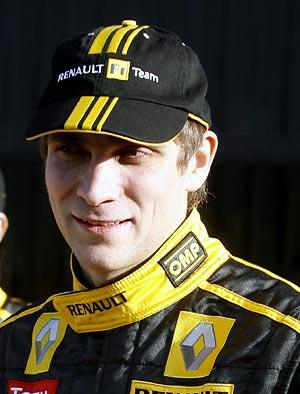 Vitaly Petrov left his Lada driving days far behind on Sunday when he signed with Renault as Russia's first Formula One racer.
The 25-year-old from Vyborg, near the Finnish border, was runner-up in last year's GP2 support series to Germany's Nico Hulkenberg, who makes his debut with Williams this season.
He will partner Robert Kubica, who became Poland's first Formula One driver with BMW-Sauber in 2006, at the former champions.
"You see my face? I am very happy," grinned the Russian, who signed the contract only hours before his new black and yellow car was unveiled at Valencia's Ricardo Tormo circuit.
"It's brilliant. This is what I have been waiting for a long time.
"Now is a big explosion in Russia, all the television and newspapers," he added. "But you know what I did? I switch off the phone, and try to concentrate here on the team."
Media reports have suggested the Russian could bring around $15 million of backing to Renault, the former champions who faced a big hole in their budget after losing title sponsor ING at the end of last season.
However, Gerard Lopez, the entrepreneur who recently took a significant stake in the team from Renault, said that is wrong.
"We had people and drivers who could have brought twice what Vitaly is bringing," he said.
Petrov said he has no Russian sponsors, only his father.
SCHUMACHER WHO?
The last Russian driver involved in Formula One was Roman Rusinov, who was named as one of four testers for the Midland team in 2006 but never raced. The first to test a Formula One car was Sergei Zlobin with Minardi in 2002.
"I try my best. The first target will be to finish the races and take the points for the team," said Petrov, who recalled his first solo drive in his father's Zhiguli (Lada) as a five-year-old.
Unusually for a Formula One driver, the Russian has no background in go-karts and started out in motor racing less than a decade ago.
"In Vyborg there was absolutely no karting so it was difficult for me. I did some touring cars and then I went straight to Europe.
"Ten years ago I did not think about Formula One, I didn't know who Schumacher was," he added, "Then I started to ask people what is it all about. And then I started to work professionally to be in Formula One.
"When I didn't know what Formula One was, the goal was rallying. But my manager said you should do that in 30 or 40 years but not now."
Petrov's appointment will be a boost for the sport in a country that is one of Europe's biggest car markets and hopes to host a grand prix in the near future.
Renault has a stake in Russia's biggest carmaker AvtoVAZ, makers of the Lada brand.
"When I was driving in GP2 I always said in TV and newspapers 'Come on, we are Russia. We are a big country. We must have a Formula One Grand Prix'," said Petrov. "Now I am here maybe they wake up and try to do something."