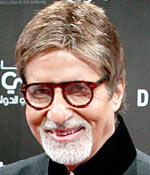 Bollywood legend Amitabh Bachchan [ Images ] said the Indian hockey team has asked him to spearhead a fund-raising concert to be held in Chandigarh.
"The hockey national team is on its way back from training camp at Pune and has a desire to meet me...The hockey team has been struggling with their association and handlers for their pay to be settled," Bachchan wrote in his blog on Sunday.
"It has not happened they say till time and are anxious that I spearhead a concert to be held in Chandigarh to collect funds for them and their welfare. I have asked for details and shall see what can be done for a cause as noble as this," he added.
The disgruntled national hockey players had gone on strike in Pune last month protesting non-payment of their dues and incentives.
The crisis was resolved after Indian Olympic [ Images ] Association (IOA) president Suresh Kalmadi [ Images ] brokered a compromise deal between the game's administrators and striking players, who were promised immediate disbursement of Rs one crore.