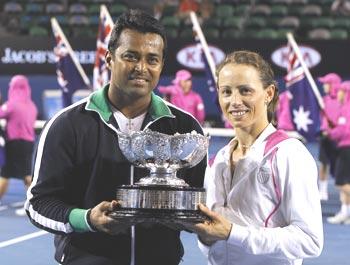 Former India players lavished praise on country's tennis ace Leander Paes after the veteran partnered Zimbabwean Cara Black to clinch the mixed doubles title in Australian Open.
Top seeds and favourites, the 36-year-old Paes and the 30-year-old Black beat 10th seeds Ekaterina Makarova of Russia and Jaroslav Levinsky of Czechoslovakia 7-5, 6-3 in just about one and a half hour.
"It is a great feeling. Leander played very well. It is a great thing for India when all the other Indian players fell by the wayside, he kept the Indian flag flying," said former India captain Naresh Kumar.
With 11th overall and five mixed doubles titles under his belt, Paes has now equalled one-time doubles' partner Mahesh Bhupathi's tally.
"Lee will remain an example for the younger generation. His victory is a result of very hard labour and consistent practice," Davis Cupper Jaideep Mukherjea said.
Former India coach Akhtar Ali also supported the view saying, "It is a remarkable and fantastic victory. Leander will remain an ideal to all the Indian tennis lovers."
Akhtar also hoped that he will fetch laurels for the country in this year's Commonwealth Games to be held in Delhi from October 3-14.
Members of the Calcutta South Club, where Paes started his tennis, and Bengal Tennis Association complex at Salt Lake also celebrated the victory.
Commenting on the 36-year-old tennis player's victory, Bengal Tennis Association Secretary Hiranmoy Chatterjee said, "The more Leander is ageing, he is playing better."
"Leander is likely to return February when the association would felicitate him in a befitting manner," Chatterjee said.