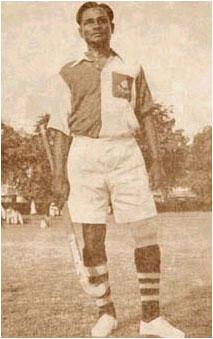 Indian hockey wizard Major Dhyan Chand loved fishing and cooked for his wards when he was a coach, former Olympian Gurbux Singh said on the eve of the master's 105th birth anniversary, to be celebrated in the country as National Sports Day.
Recollecting his experience as a player when Dhyan Chand was the coach at NIS, Patiala and India team during the late 1950s and early 60s, Gurbux said: "He (Dhyan Chand) used to love fishing and would love to cook fish and invite us to eat together while the team was camping."
- Rediff Special: Hockey's High Priest
"His simplicity was his asset, he would connect with the players easily. He commanded a lot of respect and awe from us. Like any great player, he would expect us to be like him, but everybody has their limitations," said the former India captain.
"Dhyan Chand has the same aura attached to hockey, like Donald Bradman has in cricket. Indian sport got world recognition after his team earned India first ever gold medal at the Olympics (1928 Amsterdam). Only then everybody came to know about India's sporting power.
"We went on to win a hat-trick of Olympic hockey gold medals at the Olympics (1932 Los Angeles and 1936 Berlin) as India became the powerhouse with his contribution.
"There were no Olympics in 1940 and 1944, otherwise he would have represented India to glory in five Olympics. The entire sport fraternity should come together and celebrate the day," Gurbux, the member of the 1964 gold medal-winning Olympic side, said.
Like many others who later went on to become hockey stars, Dhyan Chand too had inspired Gurbux when his father, an army man, would take him along to the ground.
"As a kid, I used to go along with my father who was playing for the Army Medical Corps (AMC). Dhyan Chand used to play for the Punjab Regiment," he recalled.
In the late 1930s and early 1940s, Dhyan Chand had come to play in Kolkata with his team Jhansi Heroes in the Beighton Cup tournament.
"People would turn up in large numbers to watch the magician in action in the Beighton Cup," he said.
The Bengal Hockey Association (BHA) will celebrate Dhyan Chand's birthday on Sunday with their annual prize distribution at the Town Hall where Union Finance Minister Pranab Mukherjee will be the chief guest.
"The occasion is doubly important to us. Not only is it a birthday, but we celebrate the National Sports Day and felicitate the outstanding Bengal hockey players of the last season," Gurbux, also secretary of the BHA, said.
Photograph: Rediff Archives