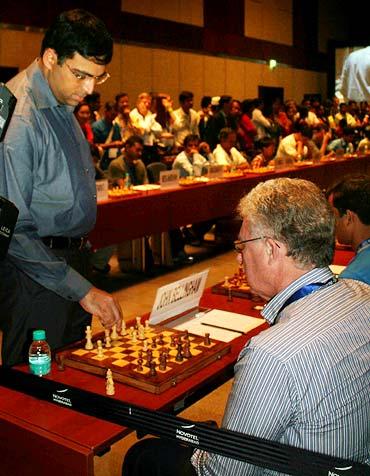 Unfazed by the controversy surrounding his nationality, World champion Viswanathan Anand on Tuesday defeated 39 opponents in a game of simultaneous chess at the International Congress of Mathematicians in Hyderabad.
Anand, who played 35 mathematicians and five nominees selected by Infosys, was calm throughout the session. He moved from one opponent to another, making quick moves. The pace of his game was so fast that six of his opponents lost in less than 20 moves, while 33 of them resigned gradually over a period of three hours and 15 minutes.
Just one 14-year-old chess wizard, named T Srikar, forced a draw against the four-time World champion.
Anand also signed autographs for his fans during play.
After the session he was engaged in a question-answer session with the participants.
The media was told not ask any questions.
The Indian chess ace got embroiled in controversy after the University of Hyderabad delayed its plan to confer an honorary doctorate on him following questions raised by the Union Human Resourses Development Ministry over his nationality. 
Although he holds an Indian passport, the HRD ministry raised questions about his nationality because he lives in Spain. 
Upset with the HRD's ministry's views, he declined to accept the honour.
"I don't understand this issue. I am in Hyderabad to play with mathematicians and enjoy the Congress," said Anand.
HRD minister Kapil Sibal, however, apologised to Anand, making it clear that his nationality was never questioned by the ministry.
"I told him that the honorary degree could be conferred today itself. He indicated to me that he had some problem about this evening. Then I told him any date of his convenience for the function was okay. He has accepted it," Sibal told a hurriedly-convened press conference, adding, "There is no question, there is no issue. There is no question about [Anand's] nationality."
Photograph: Snaps India