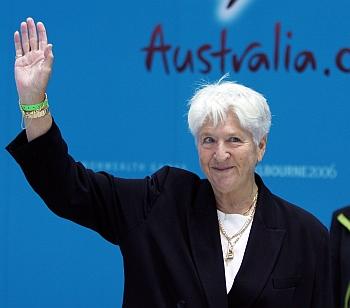 Australian Olympic legend Dawn Fraser has urged international athletes to boycott the Delhi Commonwealth Games saying that the organisers may not be equipped to prevent a repeat of the 1972 Munich Olympics massacre.
During the 1972 Olympics, members of the Israeli team were taken hostage and eventually murdered by Palestinian terrorist group 'Black September'.
By the end of the ordeal, the terrorists had killed 11 Israeli athletes and coaches and one West German police officer. Five of the eight members of Black September were killed by police officers during a failed rescue attempt.
Fraser has also spoken of her concerns regarding sanitation and even the quality of food available to Australian athletes in the Indian capital.
"The Indians are telling us that security will be right. But they've also been telling us for months that their stadiums are ready to go too and, quite obviously, they're not. Yet they're still expecting everyone to trust them and turn up when they say it's all going to be OK," The Daily Telegraph quoted Fraser, as saying.
"So what else are they keeping secret? Where is the food coming from? How is the sanitation? I know Australia has never boycotted a Commonwealth or Olympic Games, but we're simply being told too many lies.
"I would hate to see another Munich, but with things getting worse and worse, I have grave concerns. Can they prevent it?" she added.
Sprint legend Raelene Boyle, who won two Olympic silver medals in Munich, supported the boycott calls, and said that New Delhi should never have been awarded the mega event.
"That's the bottom line, but who do you hold to ransom? Regarding security, it certainly provides a precarious situation so it''s really up to individuals whether they go. But they're young athletes who wait their whole lives for this – they'll go," Boyle said.
However, Australian Commonwealth Games Association (ACGA) Chief Executive Perry Crosswhite insisted that India would get ready for the Games on time. 
"Everyone knows construction is behind, but we believe the Indians will get there and will hold a good Games. As for security, if it's not at the highest acceptable levels Australia won't be going," Crosswhite said.
"To suggest otherwise is to accuse us of being irresponsible and we're not. We've got a lot of people working on this and right now we believe the appropriate security is in place. It's time someone provided a balanced view, gave us a fair go and gave the Indians a fair go," he added.