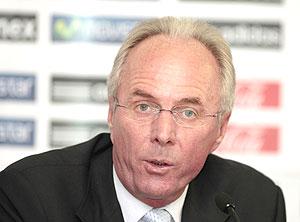 Swedish football manager Sven-Göran Eriksson has criticised England manager Fabio Capello's indirect sack of star footballer David Beckham, by saying he is "too old" at 35 to play for the country again.
"Beckham deserves all the respect you can give to him. When he gets fit, he is still a very good football player," The Sun quoted Eriksson, as saying.
Beckham, who is recovering from an Achilles injury, was not consulted before Capello made his comments.
"If it is somebody with 20, 30, 40, 50 caps then, yes, you have to speak to him before dropping him," former Three Lions chief Eriksson, added.
"If a player is good enough, yes, why not play him?" he further asked.