On his maiden trip to India, American basketball star Dwight Howard on Friday said he would be happy to share his knowledge of the game with the country's cagers, if asked, and also emphasised the need to train coaches for the development of the sport.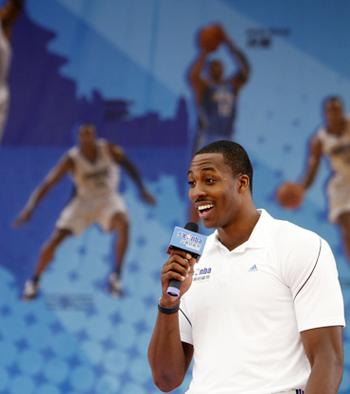 The lanky 24-year-old hoopster, a four-time All-Star player of the famed National Basketball Association (NBA), also feels that the game has a bright future in India.
"I am in the country for the first time and my experience is beautiful. Young Indians are very enthusiastic about this game. I think the country has a great potential in basketball. You have a large young population, that is the biggest and most inspirational thing," Howard said.
"I would be very happy if I can help the players but only working for them is not enough. The coaches should also be given proper training so that they can guide the young players properly," he said.
The basketball star also advocated the need for giving the Indian national team enough international exposure, which he thinks is vital to improve performance.
"Give them international exposure. That will make them sharper and they'll come to know the different styles of the game," he said.
As part of his tour of India, Howard is conducting clinics for kids.
Howard feels that entertainment and excitement are the two factors which have helped the NBA to become one of the most successful basketball tournaments in the world and the same formula could also be applied in the sub-continent.
"People want to see competition and at the same time some entertainment. The same rule is applicable here also," he said.
Meanwhile, the cager also interacted with the kids during the programme at a mall and signed autographs.
"I am excited to meet the fans in India and share the energy I experience every time I step on the court," Howard said.