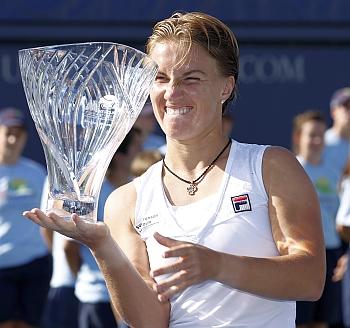 Svetlana Kuznetsova overcame a bout of mid-match nerves to grind down Agnieszka Radwanska 6-4, 6-7, 6-3 and clinch the San Diego Open on Sunday.
The Russian Kuznetsova blew four match points in the second set tiebreak to gift Radwanska the set but roared back to life in the third to take her first title in 10 months.
"I just shook," said Kuznetsova, playing in her first final of the year.
"The trophy was very important to me. I was very embarrassed and I just got it back together and dictated," she added.
Kuznetsova double faulted on two of her four match points during a second set tiebreak where she squandered leads of 4-0 and 6-3 to allow Radwanska back into the match.
The two-time Grand Slam champion said she had a fit during a break between the second and third sets that she said helped her to get her nerves calmed down.
"My knees were shaking and I couldn't push on my serve and now I know why people double fault on match points," Kuznetsova said.
"It was very hard to close and I choked for first time in my life," she added.
After falling behind 2-1 to start the third set, Kuznetsova grabbed control of the match from just inside the baseline with a series of winners before clinching the title with a backhand down the line.
The victory provides a timely return to form for Kuznetsova ahead of the US Open, and will propel her to 14th when new rankings are released on Monday.
"To play that bad at end of the second set and then to let her come back and see me choke, I had to be twice as strong in the third set and I was," said Kuznetsova.
"It's pretty funny now that I won the match, but if I lost I might be thinking: 'should I finish playing tennis?' I doubt it will happen again," she added.