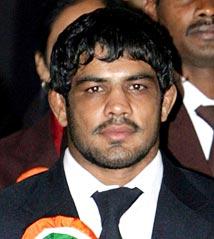 Olympian bronze medallist grappler Sushil Kumar said that Indians are eyeing a rich medal haul in wrestling in the Commonwealth Games later this year.
"Wrestlers have always contributed lots of medals to India's tally in the Commonwealth Games, we are excited to get another chance of repeating the show this time," said Sushil, who is currently at a training camp at Sports Authority of India's Sonepat campus.
"As wrestling was not among the events at the Melbourne Commonwealth Games, India missed a chance to boost their medal tally. Now with wrestling back among the disciplines at Delhi 2010, we are determined to bag a lot of medals for India," Sushil said.
"I was disappointed to miss competing in the 2006 Commonwealth Games. Being the title winner at the Commonwealth Wrestling Championships, I would have been a strong contender for gold had wrestling been part of that Games," he added.
Sushil said his Beijing Olympic achievement in 2008 not only boosted his confidence but also inspired many other Indian wrestlers since then.
"I feel proud that my bronze medal in the 2008 Beijing Olympics has contributed in boosting the confidence of Indian wrestlers, who are now eyeing medals in the Delhi Games," he said.
The Wrestling Federation of India would finalise the list of grapplers for the October 3-14 event after a two-day selection trial commencing from from Sunday.
Trials for men - both in Freestyle and Greco-Roman Style- would be held in Sonepat on Sunday, while trials for women are scheduled for August 9 in Patiala.
Women's wrestling has been included in the Commonwealth Games for the first time this year.