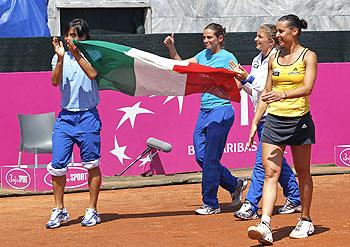 Fed Cup holders Italy again showed their sum is greater than their parts after easily dismissing the Czech Republic and storming into another final on Sunday.
World No 15 Flavia Pennetta, who has never threatened in the individual grand slams, displayed her special attachment to the team competition by defeating Petra Kvitova 7-6 (7-3), 6-2 to give Italy an unassailable 3-0 lead in the semi-final.
Italy, with no great tennis tradition, lifted the Fed Cup in 2006 and 2009 and have now reached four finals in five years.
Only a brave gambler would bet against them beating the United States or Russia in November's final.
"It's an incredible emotion. We are again in the final and all the team are euphoric," Pennetta said courtside after her second singles win on Rome's clay in two days.
Detractors have alleged that Italy's Fed Cup success is largely down to other countries not prioritising the team event given tennis is usually such an individual pursuit.
Americans Serena and Venus Williams did not even make themselves available for last year's final and top names continue to pull out on a regular basis.
However, Italy captain Corrado Barazzutti believes his team's dedication and passion should be highlighted instead of the flaws in the tournament.
"I'm not a great captain, they are a great team. It's right they receive the applause of Rome," said Barazzutti, part of the only Italian men's team to win the Davis Cup in 1976.
"They have written another chapter in the history of Italian tennis. Another final is extraordinary. I think it will take many years to have another team like this one."
The Italian men are now down in the Europe/Africa zone of Davis Cup while their female counterparts excel in their version of the tournament.
Pennetta and Italy number two Francesca Schiavone are leagues ahead of their countrymen on the circuit but the fact the pair lie consistently outside the women's top 10 and only win second-tier tournaments may explain their Fed Cup bond.
It is the only high-profile competition they have a good chance of winning and each victory boosts the sport in a usually soccer-obsessed nation.
"It's great for Italian tennis and for all us players," Pennetta said as she danced a jig of delight with the Italian flag.