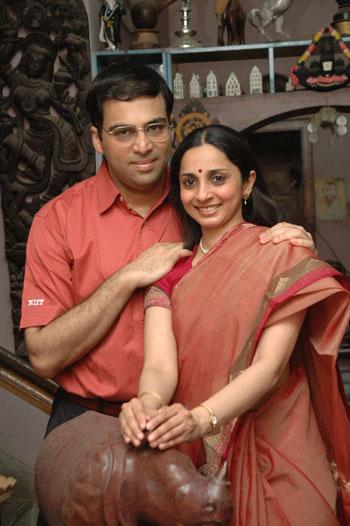 Aruna is World chess champion Viswanathan Anand's life partner for the last 13 years. She is also his business manager and secretary.
As Anand prepared to defend his World title against Veselin Topalov, in Sofia, Bulgaria, Aruna Anand looked back on the years with him.
How has the journey with Anand been so far?
It is a pleasant journey. We've had a lot of pleasant and nice moments. Of course, there were difficult moments too. It was special, because you are married to a sports person. It is different from other careers. You see victories and defeats at close quarters.
Has the journey been as expected?
When I married Anand, I had no expectations. I didn't know what to expect, but it has turned out well.
What was the most cherished moment?
It could be winning the World Championship in Bonn. That was something Anand had worked so hard for. 
You said there were difficult periods also. Were those when he was not doing well?
Exactly! In 2001-02, he had a slight dip in his performances. It took a lot out of him to reinvent himself in the game. Somehow, he could remain normal. We took holidays and finally the results started showing.
Anand always thanks you for your support. What kind of moral support do you provide?
I can't say I do this and do that. I am there for him all the time. I guess being there makes all the difference. I was able to see so many things at close quarters.
When he loses a game or a match, in what way do you help him come out of that difficult moment?
There is nothing we do to help him come out of that moment, because he would be in a bad mood if it was a loss. You wouldn't be able to help in any way. After the first hour, when the feeling wears off, you can be someone to whom he can talk to; you can be someone who will not ask him, 'Why did you play badly?'.
When Anand loses, I try not to say anything, unless he says something.
Generally, after a loss, does he talk to you, or keeps quiet?
It all depends. Generally, when he loses he likes to be left alone for some time. Then, he would tell me what wrong move he played or the moment he could have played better.  It is not as a chess player but more on a personal or emotional level. Then you try to get a perspective or watch a movie or something like that. It is very difficult. Sometimes, the next day, you may have a game and you have to get back to playing.
Generally, I just listen to him and try not to say anything unless I can't resist saying something.
You two travel a lot for tournaments. Do you enjoy those travels?
Of course! Your memories keep accumulating and one day you realise, I was in this place this year! We do enjoy the travels. Sometimes it takes a toll; then we take a break and start again.
Which place did you like most?
I think it is Mexico, in 2007, when Anand went to play at Linares. That was a pleasant trip, because we had four days to adjust to the time difference. We did a lot of sightseeing and Anand was pretty relaxed by the time the tournament started. And he played very well. It was a very enjoyable trip where everything went very smoothly.
Do you see to it that he is very relaxed before a match?
It is very difficult, because before the tournament tension would start mounting. So you try not to mention the tournament or something that could make them feel anxious. That is the only thing you can do, unless he wants to talk about it. It is very important not to make him more nervous than he already is. In the case of Anand, he tries not to look at chess during that period, and that helps him.
What are the other interests you two share?
Both of us like travelling. Anand has always been a wildlife buff. Now, I have also become a wildlife enthusiast. We take different kinds of holidays, like wildlife, adventure, etc.
Our interests in music and movies are not similar, but we can tolerate each other's interests! 
You are a sort of manager-cum-secretary for Anand now. Did these responsibilities come to you automatically?
It was a gradual process. It became a matter of convenience. As Anand's career is very demanding, it became convenient that I take care of all the other responsibilities. He was at the critical point of his career where he had to devote all his time to chess. It was better if somebody else took care of unnecessary things so that he would not be bothered about such mundane things. As years went by, we started trusting each other more and I know I can say something which Anand will be comfortable with. So the role came to me gradually.
Do you enjoy the role?
I don't know really. I was playing the role of a partner in a marriage. In this case, the role got amplified. As a wife, I do certain things and because Anand is in the limelight, people know what I am doing. If Anand was in a regular career, the role would not have got this amplified. Basically he takes the final decision.
The daily grind… he doesn't have to deal with, and that makes it easier for him. I enjoy doing these things for Anand as nobody forced me to do these things. Moreover, chess players are dreamers.
The World Championship starts now. Anand has to retain his crown...
It will be a very tough challenge for Anand. The World Championship will definitely be the highpoint of his career!