Olympic and world 400 metres champion LaShawn Merritt has failed three doping tests for a banned substance and accepted a provisional suspension, his lawyer said on Thursday.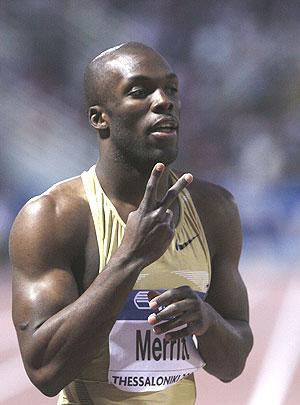 "LaShawn Merritt has accepted a provisional suspension as a result of positive drug tests caused by his use of an over-the-counter male enhancement product," the American athlete's attorney Howard Jacobs said in a statement.
The statement said Merritt had used the product, which contained DHEA and pregnenolone, following the 2009 season.
"(It) caused LaShawn Merritt to test positive on three successive tests in October 2009, December 2009, and January 2010," the statement said.
Merritt, who upset favourite Jeremy Wariner to win the Olympic 400 metres title in Beijing two years ago, was not notified of the positive tests until March.
"To know that I've tested positive as a result of product that I used for personal reasons is extremely difficult to wrap my hands around," the 23-year-old Merritt said in a separate statement.
"I hope my sponsors, family, friends and the sport itself will forgive me for making such a foolish, immature and egotistical mistake.
"Any penalty that I may receive for my action will not overshadow the embarrassment and humiliation that I feel inside," the 2009 world champion said.