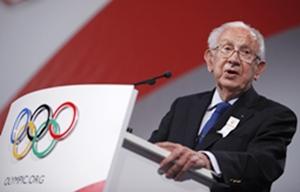 Juan Antonio Samaranch, the 89-year-old former president of the International Olympic Committee (IOC), died at the age of 89, the Barcelona hospital where he was being treated said on Wednesday.
Spaniard Samaranch, who was made the IOC's honorary life president when he stepped down in 2001, was admitted to the Quiron hospital on Sunday with acute heart problems and passed away at 1325 local time (12:25 p.m. British time), the hospital said.
He had died as a result of "cardio-respiratory failure" hospital doctor Rafael Esteban said in a statement.
"I cannot find the words to express the distress of the Olympic Family," IOC president Jacques Rogge said.
"We have lost a great man, a mentor and a friend who dedicated his long and fulfilled life to the Olympics."
Samaranch had suffered a number of health problems since his retirement and was admitted to hospital several times.
He ran the IOC with absolute authority for two decades and Barcelona's successful bid to host the 1992 Olympics was seen as his personal triumph.
He stepped down in July 2001, 21 years after he had been elected as the IOC's seventh president, and was made life president when he handed power to Rogge.