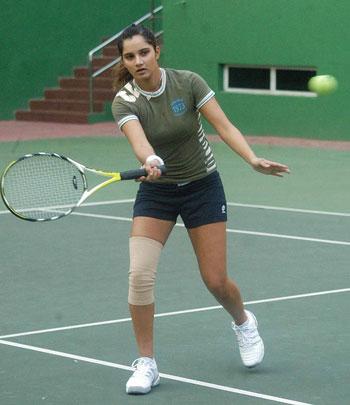 Newly-wed tennis star Sania Mirza said she will try to remain injury-free and her target will be to win medals in the Commonwealth and Asian Games later this year.
Having turned a new chapter in her life after marrying Pakistani cricketer Shoaib Malik, Sania said tennis remained on top her agenda and she is focussing to do well in the October 3-14 Commonwealth Games in Delhi, followed by the Asian Games in Guangzhou, China.
"Commonwealth Games and Asian Games are coming up and those are my priority this year. I would like to be fit and healthy for these events," Sania said.
"I'm especially eager for the Commonwealth Games because it is in India and it's also going to be my first Commonwealth Games," said the tennis ace.
Looking ahead, Sania said she had not set herself any target as far as ranking was concerned and just wants to stay away from injuries.
"I don't have a target. I never had a target. I think the main target should be healthy and injury-free, which is very difficult in our sport. Still, I will try and play as long as I can and try and get a medal in Commonwealth and Asian Games. I don't have a number in my head (about rankings)," Sania said.
Post-marriage, Sania and Shoaib would settle in Dubai and she dismissed suggestions that shifting base would affect her career.
"Dubai is not so far, it is almost like living in Delhi. It is only three hours' away. I know a lot of people, tennis courts and tennis coaches. That's not an issue at all to get practice and everything.
"We don't spend much time at home any way. I'm travelling, he is travelling. Even before marriage, I used to travel 35 weeks a year. When we are at home, we are usually taking (time) off. Professionally, it is not going to affect anything," she explained.
Sania was also of the view that marriage had brought happiness in her life and it also came at an opportune time.
"It's (marriage) a part of life, it's a phase of life. I think it will add to all the happiness. It's very a positive thing in a person's life," she said.
"I think it is the best time to get married for both of us. He has some time off and I am also nursing my wrist injury. We both had time. After that, we are going back to practising in a couple of weeks and get back to our routine," she said.
Both Sania and Shoaib insisted they were not making any political statement with their cross-border marriage.
"She is not the bahu (daughter-in-law) of Pakistan. She is my wife. It is about two people getting married," Shoaib said.
"Similarly", Sania said, "He is not the damaad (son-in-law) of India, Hyderabad, Secunderabad or Jubilee Hills. He is the damaad of this house. In fact, he is the beta (son) of this house now.
"I don't think there is any reason to make this political. We are all very happy and excited and that's it," she added.
The marriage followed a tumultuous episode, which culminated with Shoaib giving divorce to another Hyderabadi girl, claiming he had been conned into a marriage with her.
Professionally, Shoaib is also going through a tough time, having incurred a one-year ban from the Pakistan Cricket Board, against which he has made an appeal.
"My appeal has been submitted. My lawyer is looking after all that. Once I go back, I will find out what it is exactly. We are waiting for an answer," he said.
"I am not hoping anything because I have not done anything. My case is very strong. I cannot answer more on this. I am just waiting for the next hearing," Shoaib said.
Sania and Shoaib said they would leave for Pakistan soon after the cricketer gets his passport back from police.