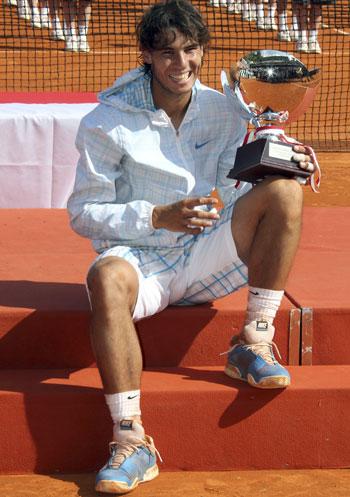 With the French Open looming, Rafael Nadal sprung back to life at the Monte Carlo Masters and left his opponents baffled about how to beat him on clay.
The world number three dropped only 14 games on the way to his record sixth consecutive triumph in the principality, demolishing fellow Spaniard and Davis Cup team mate Fernando Verdasco 6-0, 6-1 in Sunday's final.
"I don't know the tactics. If I knew, I would have done it," Verdasco told reporters.
His knee problems now behind him, the left-handed Nadal has been in a class of his own in Monte Carlo, relying on his devastating forehand and pace to also thrash in-form compatriots Juan Carlos Ferrero and David Ferrer.
"If he plays like this, no one can beat him," said Verdasco.
The French Open starts on May 23 but it looks like Nadal has already made his point, showing the form he had lost last season long before he suffered a shock fourth-round exit in Roland Garros at the hands of Swede Robin Soderling.
"Last year I did not play well (here) but I won," said Nadal.
"This year my level is completely different. I won easier than usual maybe," he added.
The Mallorcan, however, believes he has been playing well all season. "I was back to my best level on January 1. I was ready to win before this tournament," he said.
France Davis Cup captain Guy Forget, who will have to deal with Nadal when France meet Spain in the quarter-finals in July, said he was impressed.
"I admire the way he has been playing this week," Forget told Reuters.
"I think we just witnessed the rebirth of Rafael Nadal on clay. After a one-year drought, he is back with an amazing level of play. He's bluffed everyone," he added.
Verdasco was asked who could challenge Nadal on clay this season.
"I think I can put myself in the top five right now. But also there are very good players," he said.
"I think Ferrer and Ferrero, they're having an unbelievable year. Also (Roger) Federer is going to be there for sure. I don't know, maybe (Novak) Djokovic if he is in a good shape also," he added.