Liverpool manager Rafael Benitez reckons that Liverpool's Champions League dream is now in ruins after Sunday's draw against Fulham.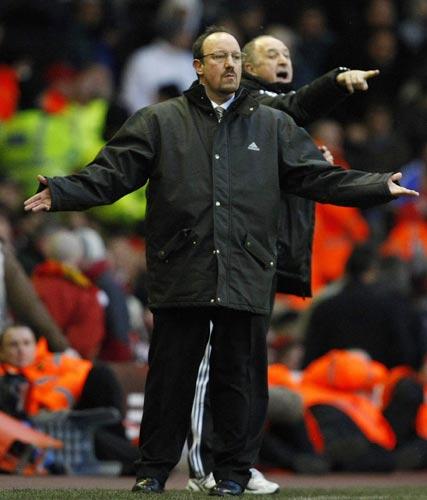 "It will be very difficult to finish fourth now. It is not in our hands and will depend on other teams' results.
"The difference is maybe a bit too much. It will be very, very difficult so we have to be realistic. As a manager, you have to believe and support your team," he said.
A superb showing from Fulham keeper Mark Schwarzer and his defence kept Liverpool at bay. They are now stranded six points off fourth place with just four matches to go, The Sun reports.
"I'm disappointed because we had plenty of possession and some good chances. We could have won 1-0 or 2-0 but just could not score," Benitez said.
It was a bad day all round for the Reds as star striker Fernando Torres also missed the must-win clash with knee trouble and will visit a specialist today.
Benitez will now just be hoping that Torres can get back to fitness as soon as possible, to try to help Liverpool cling on to their glimmer of hope.
"He has a problem with his knee and has gone to see a specialist - and we are waiting for the news. We don't know how bad it is yet, it depends on what the specialist says tomorrow," he said.
Torres sees knee specialist in Spain
Liverpool striker Fernando Torres saw a knee specialist in Spain on Monday after injury forced him out of Sunday's Premier League match against Fulham, the English club said.
"He received treatment and will continue to do so over the next few days, with the injury being reassessed later this week," Liverpool said on their website (www.liverpoolfc.tv).
The Spain international, out of action for six weeks earlier in the season after tearing cartilage in his right knee, scored twice to help Liverpool set up a Europa league semi-final clash with his former club Atletico Madrid last week.