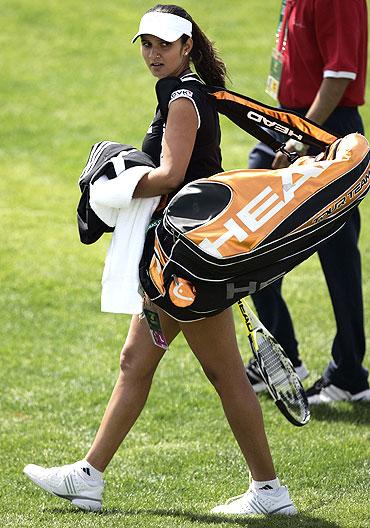 Whenever a Tiger Woods, a Jude Law, a Salman Khan or a Sania Mirza pleads with the media to respect his/her privacy, they have only to look into the mirror to see who is responsible for the camera crew crowding the driveway.
How many of us have been caught with the nanny, sent raunchy text messages to New York hostesses, shot black bucks or married Pakistani cricketers who have an earlier telephonic alliance? Not many. It's time the rich and famous realise that the cameras hound them because they ask for it.
Privacy is possible if celebrities live normal lives in spite of being rich, successful and famous. Kajol and Ajay Devgan got married with minimum fuss at the peak of their respective careers. There was no hoopla, no ex-spouses popping out of the woodwork, just a regular wedding, after which they released a photograph to a news agency.
Besides, Sania is not the first tennis player to decide to marry another famous sportsman. It can't get bigger than Steffi Graf and Andre Agassi, who moved from dating to marriage to parenthood with admirable poise.
The Sania-Shoaib story is grist to the 24-hour "news" mill. However, they can only share part of the blame for invasions of privacy. There is no polite way of saying this: some celebrities simply deserve to be hounded by the media.
While the growth spurt in the media is recent, celebrities and adoring fans have been part of popular culture for years now. Most celebrities readily make use of the perks of success, when it comes to jumping queues, not paying bills at restaurants or getting free access to restricted areas.
At the recent National Film Awards function in New Delhi, one half of a side entrance to Vigyan Bhavan was kept open for the awardees. In an impossibly long queue were the winners of the top awards. Most of them were not from the Hindi film industry and were uncomplainingly standing in line. There was no sign of some of the awardees though.
Obviously Priyanka Chopra, Farhan Akhtar, Kangna Ranaut and Arjun Rampal had been ushered in through another entrance. It is understandable when such preferential treatment is given to avoid being mobbed. However, it's unlikely that the other national award winners would have mobbed this winsome foursome.
Sania is a creation of the media, and she has thrived on it by winning a kitty of endorsements that is disproportionate to her sporting prowess. Today, if she is shunning the media and pining for privacy, she should be aware that being the media's darling has a flipside too.
She was not complaining when her first-round wins at innumerable Grand Slams were being hailed as sporting achievements, only to be followed two days later by a discreet mention of her second-round exit. However, she has complained incessantly about getting a raw deal from the media, and even sat out of a tournament in Bangalore on that pretext.
Instead of whining, Sania should admit that her current situation does read like a soap opera. She would do well to realise that normal is boring, but it does ensure a quiet, uncluttered existence even for the famous.
Hopefully, she has not taken a leaf out of her Western counterparts' books and sold rights to photographs of the event and video footage to some media house or glossy magazine. Even if she does not want one, we certainly need a break.
Malavika Banerjee is director, Gameplan, a sports marketing company, and a regular contributor to Business Standard's Sunday Sports page.
Business Standard
Source: