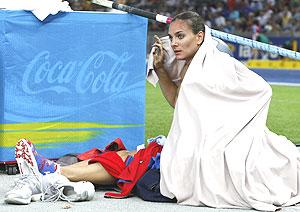 Russia's two-time Olympic pole vault champion Yelena Isinbayeva on Saturday announced that she is taking an indefinite break from the sport, following her poor performance in last month's World Indoor Championships in Qatar.
The 27-year-old failed to impress, finishing fourth in Doha. Isinbayeva said that she had been thinking about taking a break for sometime now.
In a statement on her official website, the reigning Olympic champion revealed that she believes her body is telling her to rest.
"I have been thinking over this very carefully the last three weeks and now come to the conclusion that a break from competing is absolutely necessary for me.
After more than eight years of very hard training and competing at the highest levels both indoors and outdoors each year I need to step back in order for my body to properly recover," she added.
Isinbayeva, however said that she will continue training to keep herself in shape. "It is my full intention to continue training and keep myself fit. At this moment I cannot exactly say when I will return to competitions. I have not completely ruled out the entire summer circuit or the European Championships in Barcelona," the Russian said.
"Nothing has changed with my long-term goals which include the 2011 and 2013 World Championships and the Olympic gold in London 2012," she added.