Michael Schumacher was just a spectator on the pit wall as Nico Rosberg secured a first podium for the new Mercedes team at Sunday's Malaysian Grand Prix.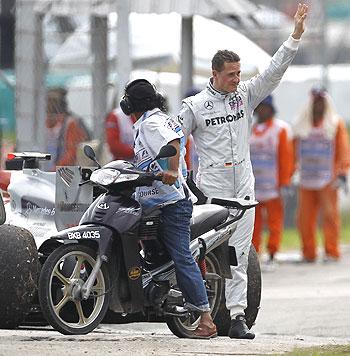 Schumacher, who won the race three times with Ferrari, had to leave his Mercedes on the grass when a nut came off his rear left wheel on lap 10 as the seven-times world champion was running in sixth.
Team-mate Rosberg finished third behind Red Bull drivers Sebastian Vettel and Mark Webber to give Mercedes their first podium as a works team since 1955. Mercedes have won races and titles with McLaren but returned to the sport as a works team this season after buying champions Brawn.
"It is something very unusual to happen and in testing we never had problems so we have to look at it," Schumacher said.
"The car suddenly became very unstable in turn six and I could hardly steer and had no drive left.
"It makes no sense to get angry about it. You have to accept it as part of the game and look ahead.
"At least Nico scored our first podium finish and I am happy for him and the team," added the 41-year-old winner of 91 Grands Prix.
Schumacher, who had to be taken back to the paddock on a moped, has endured a tough return to the sport.
The German finished sixth in the season opener in Bahrain and 10th in Australia last week, both times behind compatriot Rosberg.
"It's a fantastic result today to achieve our team's first podium at the home race for our title partner," Rosberg said.
"This result is the start of the reward for our efforts. It's a great feeling to be back up on the podium again and to have so much support from the Malaysian fans here."
Rosberg, who started second on the grid, was overtaken by Vettel before the first corner and had to hold off an early challenge from Renault's Robert Kubica to retain third place.
"This is a great end to a strong weekend for us," Rosberg said. "We're not quite where we want to be yet so we need to push on but I'm confident that we'll get there soon."
The result moved Rosberg into fifth in the drivers' championship on 35 points, four behind leader Felipe Massa. Schumacher is 10th with nine points.