Mark Webber splashed to pole position at the Malaysian Grand Prix on Saturday after a tropical storm caused chaos in qualifying and left some of his main rivals at the slow end of the grid.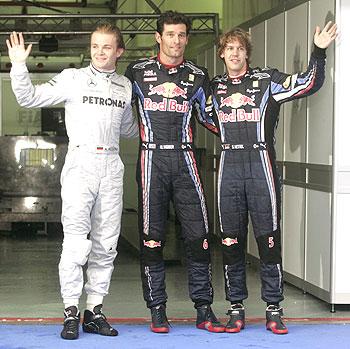 While the Australian grabbed Red Bull's third successive pole, Germany's Nico Rosberg outqualified illustrious Mercedes team-mate Michael Schumacher for the third time in as many races to secure his first front row start.
Red Bull's Sebastian Vettel, on pole in Bahrain and Australia, qualified third with Force India's Adrian Sutil an encouraging fourth and Nico Hulkenburg fifth for Williams to ensure German drivers filled four of the top five slots.
The big talking points, however, were the severe misjudgement of the conditions in the first part of qualifying by both Ferrari and McLaren as well as the surprise of new teams Lotus and Virgin both having cars in the second session.
McLaren's 2008 world champion Lewis Hamilton will start in 20th place, sandwiched by the Ferraris of Fernando Alonso (19th) and Felipe Massa (21st), who all left it too late to record flying laps as the rain became heavier over the Sepang Circuit.
World champion Jenson Button did manage to squeeze into the top 17 from the first session but was unable to take any further part in qualifying after he aquaplaned off and beached his McLaren in a gravel trap.
"We read it wrong basically," Button, who won a rain-shortened Malaysian Grand Prix last season, said.
"We thought that first rain storm was it and there was nothing else coming, so we waited. It was obviously the wrong thing to do.
"I hope I haven't damaged anything because I was sat in the gravel with the engine running for quite a long time hoping to get pulled out. but that wasn't the case."
The third session was also halted for 18 minutes due to the conditions.
BIG SCALPS
Webber gambled on intermediate tyres for the final two sessions and the risk paid off when the Australian finished more than 1.346 seconds clear of Rosberg.
"It was a very tricky qualifying session for everyone, there's no question about it," Webber said.
"When you look at the amount of standing water in places in Q1 (the first session) and Q2... just trying to get a clear lap was pretty challenging.
"There were a few big scalps in the first session which is a bit of a surprise but it just goes to show how sensitive it is to the tyres."
Webber praised his engineer for recommending the tyres that took him to a second pole position of his career after Germany last season.
"He made the call and told me to go for it, telling me by the third or fourth lap on them we could go for pole," he added. "It was tricky in places but it was the right tyre and I kept it on the black stuff and got the job done."
Rosberg played down his knack of getting more out of Mercedes in the early season than Schumacher, instead focusing on a session where he timed his runs just about right.
"I was pleased. I felt good out there and got a good second lap in before my tyres started to degrade. I almost came in but staying out on full wet tyres was the right decision. So it was fantastic," said the German.
For championship leader Alonso, who won the season opener in Bahrain and finished fourth in Melbourne last week, the timing was completely wrong as he was sent out in the worst conditions after the other drivers had set competitive times in Q1.
"I thought we had no more rain for the qualifying," twice world champion Alonso said.
"Unfortunately it did rain so the track didn't improve at all in the last 10 minutes so we were in the wrong place at the wrong moment. But the race is tomorrow and not today so we keep the confidence high."