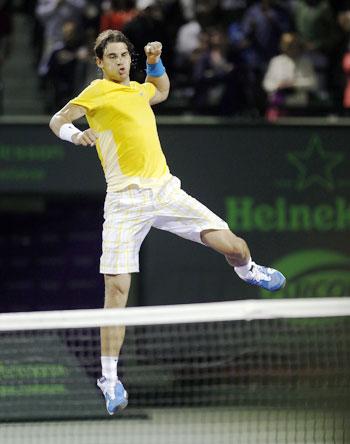 Spain's Rafa Nadal will face American Andy Roddick in the semi-finals of the Sony Ericsson Open after the pair enjoyed convincing victories on Wednesday.
Roddick cruised with a 6-3, 6-3 win over Spain's Nicolas Almagro while, Nadal was in blistering form in front of a packed crowd as he crushed France's Jo-Wilfried Tsonga 6-3, 6-2.
The big serving Tsonga matched Nadal in the opening exchanges but never recovered after the Spaniard broke his serve in the seventh game of the opening set.
From then on Nadal, wearing a bright yellow shirt, was in outstanding form, displaying his full range of strokes as he dealt with everything that Tsonga threw at him saving all eight break points in the match.
Nadal, always a favourite among the heavily Hispanic crowd in Miami, survived a crucial break point when he was 3-1 up in the second set but facing Tsonga's renewed determination and it was free cruising from that point.
"I played well, his service is always tough but I think I also served really well today," said Nadal, who now faces another big server in Roddick.
"I have to be very focused on myself and try to play aggressively on the return. He is a big competitor and a very good player," he added.
Sixth seed Roddick, who won this event in 2004, never looked back after breaking at the first opportunity in the opening set.
In the second Roddick broke in the fifth thanks to two great forehand shots down the line and a delicate half-volley.
But the American never really had to take any risks as he kept it tight and looked to take advantage of whatever loose returns came his way.
"I felt like I played pretty clean today," said Roddick.
"He's a guy who takes lots of risk himself, so you can keep it low because he's the one kind of trying to hit the lines and being the aggressor.
"I played within the margins today, and hit it well," he added.