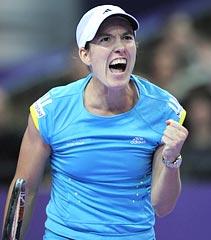 Belgian pair Justine Henin and Kim Clijsters will meet in the semi-finals of the Sony Ericsson Open after both advanced through their quarter-finals ties on Wednesday.
Henin took a step towards her third final since her comeback when she beat world number two Caroline Wozniacki 6-7, 6-3, 6-4.
She now has a chance to avenge her defeat to Clijsters in January's final of the Brisbane Open after her long-standing rival beat Australian Samantha Stosur 6-3, 7-5.
Henin, a nine-times Grand Slam winner who entered the tournament as a wildcard, recovered from losing the opening set by getting the upper hand in the second and a single break in the third was enough to take her through to the semi-finals.
The 27-year-old only returned to competitive tennis in January after quitting the game in 2008 but she has already shown she has lost little of her quality.
She reached the finals in Brisbane and then the Australian Open before her second round exit at Indian Wells.
In perfect, sunny weather with palm trees gently swaying in the breeze, Henin broke in the eighth game of the second set to get back on level terms.
Then she broke the third game of the final set and although Wozniacki showed plenty of determination and application, the Belgian was in no mood to give up.
Wozniacki said she was not at all surprised by Henin's comeback form.
"She had a break for 18 months, but she was still practicing hard and she is been working out a lot and she's been number one in the world," Wozniacki said.
"She has the experience, all the package that she needs to become a great player again, and she is.
"So, I wasn't really surprised. It's really difficult to play matches again after you haven't played for a while, but I think she just didn't feel the pressure.
"She just went out there and enjoyed it and she's why the results also are coming," she added.