Chennai-based Indian driver Karun Chandhok is getting ready to try Force India's driver simulator and is confident of proving his mettle for a Formula One debut next year.
Chandhok was excited after Force India owner Vijay Mallya stated that he would like to provide the Indian an opportunity to prove his F1 mettle on the simulated condition, although Vitantonio Liuzzi would race during remainder of the session.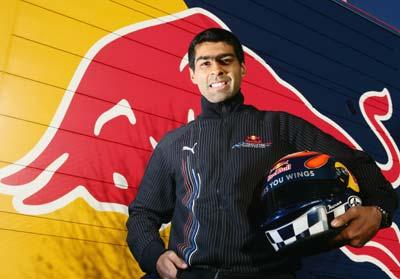 "It is a great chance for me to start working with the Force India F1 team. I have said all along that my objective is to be in Formula One in 2010," Chandhok said.
"To be racing in F1 in 2010 would be a dream come true for me. Of course I would love to drive for Force India. I think it will be good for the country and will be really good for Indian motorsport," Chandhok told espnstar.com.
"I think a lot of people back home are getting very excited about it, terming it a very big opportunity. But people also need to understand that we are not talking about racing for Force India, we are not talking about testing for Force India," he added.
After Giancarlo Fisichella joined Ferrari, Force India promoted reserve Italian driver Vitantonio Liuzzi to the race seat, a decision that drew criticism from some quarters.   Even F1 supremo Bernie Ecclestone said that the team should have roped in Chandhok to give motorsports a boost in India.
The 25-year-old, who is currently at Monza in Italy, also thinks that GP2 races have played a crucial role in preparing drivers for the highest level of the sport.
"Formula One is the most competitive and most difficult category in motorsport. It is top of the tree in our world and is the most competitive level. At the same time, there is nothing better in the world to prepare you for Formula One than GP2.
"Most of the guys on the grid today have come from GP. So I think, GP2 is definitely a strong stepping stone for Formula One and it has been well proven," Chandhok said.
On his own performance in GP2, Chandhok said, "We have lost a lot of points from reliability issues and we should have had a race win in Monaco, a podium in Istanbul and a whole lot of points at other races. So our position is not a true reflection of the potential of the team."
Chandhok was placed 18th in the current GP2 season, with third place being his best finish.