Force India should have chosen an Indian driver to replace Giancarlo Fisichella when the Italian switched to Ferrari to help boost the build up for the nation's inaugural grand prix in 2011, Bernie Ecclestone has said.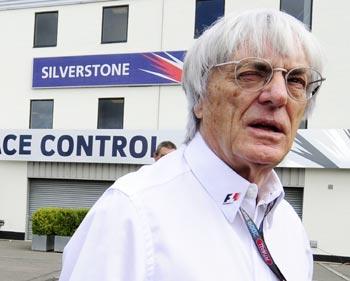 The F1 supremo was disappointed his friend and Force India team principal Vijay Mallya did not offer the chance to Indian Karun Chandok, 25, who drives in the GP2 feeder series, instead handing the role to the team's reserve driver Vitantonio Liuzzi.
"I was hoping Vijay would give Karun a chance," Ecclestone told the Hindustan Times on Wednesday.
"And I'm a little disappointed that he has put the Italian guy in."
"Whether he has to do this by contract I don't know, but I'd have liked to see Karun in the car for the rest of the season."
Liuzzi will race for the first time since he drove for Red Bull 2007, starting with his home grand prix at Monza on Sunday.
Formula One is having a bumpy ride in India with sports minister Manohar Singh Gill dubbing it more entertainment than sport while refusing certain duty exemptions for the company building the track near New Delhi.
"We need to get Karun in the Formula One car quickly," Ecclestone said. "And he has got the talent and the ability, so it is a case of somebody just getting on and doing it now."
"We haven't seen him in a Formula One car to know (if Chandok is ready) but there is no reason why he shouldn't perform."
Indian liquor and airlines baron Mallya bought into Spyker two years ago and renamed it but avoided the temptation to install an Indian driver by ignoring Narain Karthikeyan, who became the first Indian Formula One driver in 2005, as well as the young Chandok.
Ecclestone was surprised more Indian companies did not sponsor Formula One teams which he felt would earn them global attention and felt a driver in the series would encourage them to do that.