Unseeded American upstart Melanie Oudin added another checkmark to her growing list of Russian victims at the US Open on Monday.
When she smacked a forehand winner on her third match point, Oudin dropped her racket, raised her arms, and looked at the sky while nearly 24,000 at Arthur Ashe Stadium roared.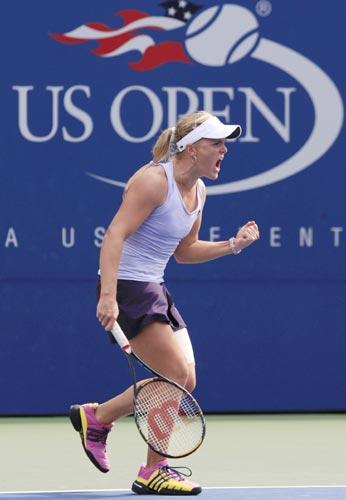 The wide-eyed Oudin is chock-full of emotions on every point admitted she was more confident on this occasion.
"Today there are no tears because I believed that I could do it," the rapidly maturing 17-year-old said after reaching her first major quarter-final with a 1-6, 7-6, 6-3 victory over Nadia Petrova, her fourth straight against a Russian.
"Now I know that I do belong here. This is what I want to do, and I can compete with these girls no matter who I'm playing. I have a chance against anyone."
Next up for Oudin will be Denmark's Caroline Wozniacki who toppled sixth seed and 2004 champion Svetlana Kuznetsova 2-6, 7-6, 7-6 to reach her first grand slam quarter-final.
"It's going to be tough, especially also with the whole crowd supporting her," Wozniacki said. "But I'm just going to go out there and enjoy."
Oudin lit up Flushing Meadows once again.
She is playing like Cinderella, doing everything she can do prevent the clock from striking midnight.
Her play energised the throng who chose to spend Labour Day watching America's newest darling reach the final eight for the first time in a grand slam tournament.
The crowd also gave the Georgian a boost just when it looked that Petrova might end her dream run.
"It's really a great feeling," the 70th-ranked Oudin said of her support. "Everyone stood up when I had my first match point. Just when I won the second set, a standing ovation. It's crazy how many people are cheering for me and supporting me."
Oudin opened her dizzying run by defeating Anastasia Pavlyuchenkova, then shocked fourth seed Elena Dementieva and former champion Maria Sharapova.
She insists there are no secrets on how to beat a Russian.
'I don't think they had weaknesses," she said. "Every single match has been so competitive and so close, and I've been able to pull it out in the end."
The fleet-footed Oudin scampers around the court like her idol, Belgium's former world number one Justine Henin. She chased down everything Petrova threw at her.
"When you do it for the first time you feel so excited and everything is so new and you have absolutely nothing to lose and you go and you do it," Petrova said of Oudin.
"She's on a roll, you know. She goes, enjoys it, crowd is behind her. She's having a blast out there."