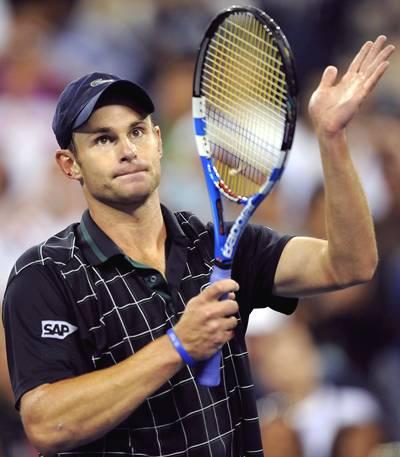 It has been a tale of two draws at the US Open, with the men's seeds advancing full steam ahead and the usually fastidious women's field in disarray.
Eight of the top 16 women's seeds have been given the boot at Flushing Meadows, while all 16 men have strolled forward.
The top 10 in the often volatile men's draw have barely felt a ripple of opposition. Going into Friday's fifth day of play at Flushing Meadows not one had lost a set.
"That's shocking," fifth-seeded American Andy Roddick said after his second-round victory on Thursday.
"Not to lose one set, not even a set? Not a quick little break at 11:00 (a.m.) out on grandstand? That's pretty surprising."
Andy Murray of Briton gained the unexpected distinction of becoming the first man among the top 10 to drop a set when he took one misstep on Friday in a 6-2, 3-6, 6-0, 6-2 second-round victory over 87th-ranked Paul Capdeville of Chile.
"I played three very good sets and one poor one," said Murray. "I played one bad service game that gave him confidence in the second set."
Eight of the leading women at the year's final Grand Slam would have happily settled for just one bad set.
Gone are women's fourth seed Elena Dementieva and former world number ones Jelena Jankovic (number five) and Ana Ivanovic (11).
Eighth seed Victoria Azarenka of Belarus was shown the door on Friday, losing to Italian Francesca Schiavone 4-6, 6-2, 6-2.
Agnieszka Radwanska (12), Marion Bartoli (14), Samantha Stosur (15) and Virginie Razzano (16) also left New York early.
Top-seeded world number one Dinara Safina has survived the upset bug -- just barely. The Russian has had to battle back after losing the opening set in both her victories.
Champion Serena Williams has taken notice.
"You can never underestimate anyone," the second seed told reporters after her 6-3, 7-5 third-round victory over Maria Jose Martinez Sanchez of Spain.
"Some people, some days they have great days. I was just happy to keep getting through my match today. I just go and look at every opponent as the best player in the world."
Yaroslava Shvedova of Kazakhstan, who eliminated Jankovic, last year's runner-up, said she has been inspired by 17-year-old American Melanie Oudin's defeat of Olympic champion Dementieva.
"Like big changing starts now," said 55th-ranked Shvedova, who suggested that the upset trend could continue.
"They better watch out. We are coming."