Reader Prabu Francis from Malaysia sent us this picture.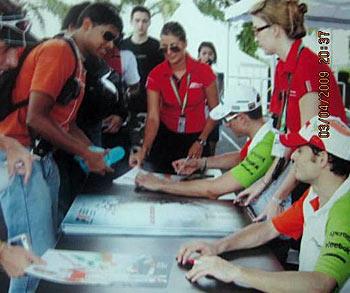 'Hi Rediff,
'Here's another golden moment caught on the cam..!!
'Meet my dear friend Sreenivasan from Chennai (saffron T-shirt) with 'The hero of the day (Belgian GP)' [Giancarlo] Fisichella and [Adrian] Sutil, the drivers of the Force India Team, when they were in Malaysia.
'Sreeni is a keen and a passionate follower of Formula one.
'Request you rediff to share a sweet moment with all,' he wrote.
Thank-you, Prabu Francis, for sharing this picture.