Andy Roddick, hailed as the next great American player after he won the US Open in 2003, said he got a kick out of watching teenage compatriot Melanie Oudin scamper to an upset victory on Thursday.
However, the fifth-seeded Roddick was in no hurry to anoint the 17-year-old as the next great American women's player after she eliminated fourth seed Elena Dementieva.
"I love watching her. I was watching her this afternoon," Roddick said after his 6-1, 6-4, 6-4 second-round victory over Marc Gicquel of France ended the night session at Flushing Meadows.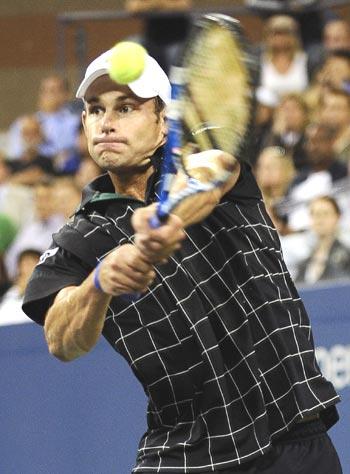 "I like the way she constructs points. It's not just hitting the ball to one spot. She kind of works the slice in there. She competes. She moves really well.
"I've only been around her a little bit. But she seems like a sweetheart. I'm cheering for her. I like watching her play."
Roddick said Oudin might need to exercise patience before realising dreams of becoming queen of the hill.
"It doesn't seem like Venus and Serena are in a hurry to go anywhere," he said about the Williams sisters, winners of 18 grand slam singles titles between them.
"Everyone is always looking for the next thing. Well, the present, as far as the women's game goes, is pretty good."
Roddick, 27, said he had realised talent alone was not enough to get to the top and he had needed to make adjustments.
He relied on a booming serve for most of his early success, but after failing to follow his 2003 victory with further grand slam triumphs he has focused on improving his speed and fitness.
"The lesson I've learned is to kind of put your pride away sometimes," he added.
"No matter how good that you think you are or that you might have been, what's been successful, you kind of have to suck it up and adjust if people are getting better.
"That's not always the easiest thing to admit, especially for athletes. We kind of live in a world of denial."