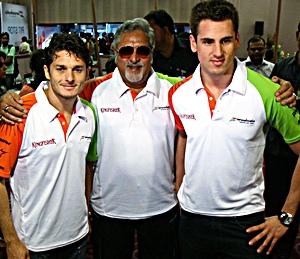 Force India chairman Vijay Mallya says his team's maiden podium finish in the Belgian Grand Prix ranks alongside Royal Challengers Bangalore's final appearance in the Indian Premier League II as two of his best sporting moments.
There is an uncanny similarity between Force India and BRC, both owned by the liquor baron, as both the outfits pulled off huge surprises in their fairytale second season to silence critics.
"I think the podium finish and getting into the final of the IPL cricket are two sporting moments that I will never forget," an elated Mallya said, drawing a comparison between the two achievements.
While Force India had the backmarker's tag hanging around its neck after failing to score a single point in 2008, RCB were the laggards of the inaugural IPL, finishing second last.
Even the staunchest supporter of both outfits did not give them a chance, but both went on to pull off surprises, with RCB reaching the final of the IPL II in South Africa and Giancarlo Fisichella notching up Force India's first podium finish at Spa-Francorchamps.
The podium finish in Belgium ended Force India's dry run on Formula One circuit and Mallya admitted his heart was pounding towards the end of the race.
"I had palpitations right through the race. In the last five laps I thought I was going to faint or something," Mallya said.
Mallya said he expects the other Force India driver, Adrian Sutil, to be among points too but the contact with Renault's Fernando Alonso put paid to his hopes.
"I was really hoping that Adrian would get into the points as well. He was really quick, but that extra pit stop (after being hit by Alonso at the start) cost us everything," he said.
Now that the team has raised the bar for itself, Mallya insisted Force India would have to live up to the high expectations.
"I think we've done exceptionally well, we've redeemed ourselves and we've silenced all our critics. Such results are fantastic, but they also create more and more expectations, so it puts pressure on us. But there's no reason why we should feel pressured. We've developed our car, and it's clearly competitive. If others can do it, so can we.
"I think the boys have done a great job, and we really have our aerodynamic programme together. So I'm quietly confident. I feel good for the team and for myself.
"Sometimes when you keep missing and a level of frustration kicks in and that's very dangerous. People then ultimately say we try so hard, and we never seem to get there. I think we got there and we got there in style, and I think that was the most important achievement," Mallya added.